Tioga

High School




Class of 1978
See Announcements below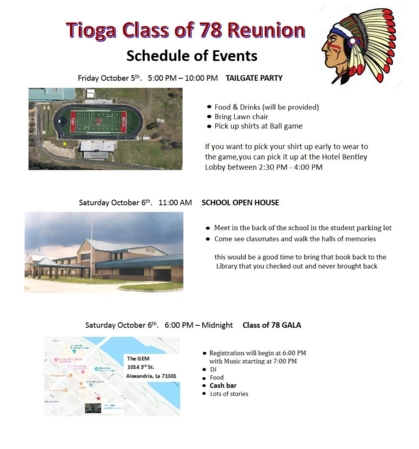 Welcome to our new website! We have set this up in anticipation of our 40th reunion this fall. However, this site will also give us a way to reconnect with classmates. This will be the permanent home for class profiles, so come back often and update as needed.

Please join the site by updating your profile. You are free to add as much, or as little information, as you would like to share. This site is secure. ( Please click on first time visitors, to the left, if you have any questions. ) We will be uploading yearbook pictures soon. It would be great if you would upload a current picture of yourself to your profile, so that other classmates can see you - 'then and now'.

Next, please help by reaching out to any classmates that have not joined and share our www.tioga1978.com website with them. Hopefully, with your help, we can get every member of our class to join!
Time to Register for the Reunion!
ANNOUNCEMENTS
•

Our Saturday night gala will be at The Gem, in downtown Alexandria. The following two hotels are within walking distance. Melinda Miers has contacted both hotels and they have reserved a block of rooms. Please tell them that you are reserving a room for the Tioga Class of 1978 40th reunion. If they say all rooms are booked please let us know. They will set aside more rooms if needed.

The Bentley (318) 442-2226

Standard Double $119

Standard King $109

Holiday Inn Convention Center Downtown Alexandria (318) 541-8333

Standard Double or King $109

Note: If you check online sites you may find a better price for the Holiday Inn. The Bentley group rate is better than online prices.