In Memory
Jan Howard Moneysmith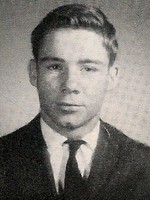 Born Aug. 30, 1946, Tyler; died Feb. 15, 2007, Cozumel, Mexico, age 60
JTHS activities: National Honor Society, Football Team Manager
Jan Howard Moneysmith. Born in Tyler, Texas August 30, 1946 and died February 15, 2007 in Cozumel, Mexico while on a Caribbean cruise with his dear friend and soul mate, Naomi Kuperman. Jan is preceded in death by his father, Howard Moneysmith, 1990 and Jan's late wife, Judy Megason Moneysmith, 1992. Jan spent most of his childhood in Tyler, Texas graduating from John Tyler High School in 1964. He then moved to Austin along with his family to attend the University of Texas. He obtained a degree in Zoology in 1969. In May of 1970, Jan married his college sweetheart, Judy Megason. They lived in Austin and raised Shetland Sheepdogs for many years. On February 19, 1978 they had their eldest son, David Lawrence. On December 14, 1981 they brought into this world David's little brother, Ian Anthony. While living in Austin, Jan worked for the Texas Air Control Board now a part of the Texas Commission on Environmental Quality. In 1989, the family moved to Goleta, California where they lived a year before moving back to Texas to reside in Plano. On July 5, 1992 his wife, Judy died leaving Jan to raise his two sons. Jan worked for the EPA Regional office in Dallas for over 10 years. Most recently he had served as a Senior Environmental Scientist in the Air Quality Analysis Section. He was considered an expert in the area of particulate pollution and his expertise was sought out by his colleagues at state and local air pollution agencies as well as numerous other groups. He was involved with many critically important projects at EPA such as working closely with the Department of Homeland Security on establishing monitoring systems for biological agents. He was highly regarded in the professional community for his extensive technical knowledge of monitoring systems and the health impacts of particle pollution. Jan was also respected, not only for his technical abilities, but as a warm, caring and thoughtful human being. He touched many lives in a personal way. He will be sorely missed by his colleagues.
His hobbies and interests included sailing, swimming, motorcycling, going to museums and writing. Jan enjoyed and shared an eclectic taste in music.
Jan is survived by his two sons, David Lawrence Moneysmith and Ian Anthony Moneysmith both of Plano, Texas. Also surviving him is his mother, Mary Moneysmith [now deceased] of Pflugerville, Texas along with his sister, Teri Moneysmith and her husband Scott Stalnaker also of Pflugerville. Jan is also survived by one nephew, Zach Stalnaker, of Pflugerville. The family would like to thank Naomi Kuperman for being such a good friend and soul mate to Jan and bringing much joy to his life. Jan also leaves behind many friends and colleagues.
A celebration of Jan's life will be Saturday, February 24th at 1:00 P.M. at the Cook-Walden Capital Parks Mausoleum which is located at 14501 North IH-35, Pflugerville, TX 78660.
In lieu of flowers, donations may be made to any of the following:
The University of Texas College of Natural Sciences, Development Office, 1 University Station, G-2500, Austin, TX 78712
Family Eldercare (or online at: www.familyeldercare.org), 2210 Hancock Drive, Austin, TX 78756
Or a charity of your choice.