In Memory
Dr. Richard Larry Willett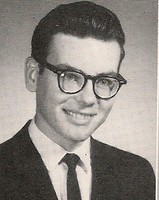 Born April 2, 1946, Waco; died Feb. 15, 1997, Baton Rouge, age 50
JTHS activities: National Honor Society, Rotary Boy of the Month
Education: Stephen F. Austin State University, School of Forestry, Nacogdoches, TX; doctoral dissertation "Soil Properties Relating to Height Growth of Loblolly Pine on Soils of the Bowie, Fuquay, Sacul, and Troup Series"
Married: Martha Lawson, 1973, Nacogdoches
Cause of death: pancreatic cancer
Larry Willett Memorial Forestry Award – established in 1997 by funds raised from the Louisiana forestry industry and gifts given in memory of the Extension forester. The fund was named for Dr. Willett upon his death in February 1997. Proceeds help send 4-H University forestry winners to the regional forestry contest.
A Larry Willett Memorial Scholarship was established at the University of Arkansas at Monticello's School of Forest Resources and the Arkansas Forest Resources Center.