Wayland Union

High School




Class Of 1969
CELEBRATING 52 YEARS!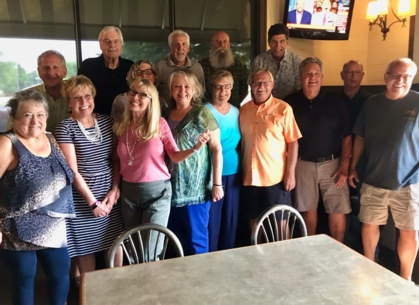 This distinguished group from Wayland High's amazing Class of 1969 gathered on 7/13/2021 at Salvino's in Wayland. Front row L-R: Jan Hendrixson Allman, Karen Fifelski Slater, Mary Torrey DeVitto, Judy Powers Kraft, Carol Chrisman Christophel, Bob Potts, Don Clack, Terry Kelly, Ron Jansen. Back Row L-R: Bob Whitcomb, Rich Tolan, Anna Niemchick Spray, Bob Bezemek, Leo Grinage, Jerry LaValley. Way to go Wildcats!
Welcome to the Wayland Union High School Class Of 1969 web site. If you are visiting the site for the first time, please click on "Classmate Profiles" in the left column, then click your name and register. Then, you can click "Edit Profile" to enter and update your profile information. You can also click "Edit/Upload Photos" to place photographs in your personal profile page. Don't forget to click the "Save Changes" button each time you enter information and photos.
ALL WEBSITE FEATURES ARE FREE!!!
Note: If you are having any problems accessing or viewing this web site, or have any questions, please click "Contact Us" from the menu on the left. Fill out the form and send a message decribing your problem.