Hail, hail to old Purdue. All hail to our old gold and black! Hail, hail to old Purdue! Our friendship may she never lack!!!
Our Stellar Brothers house at 214 Marstellar Street is long gone, and our memories of our Stellar Brothers days may have faded a little. We don't have a Stellar Brothers house to visit at Homecoming and most of us rarely talk with other Stellar Brothers. We likely don't even know where other Stellar Brothers are living or what they ended up doing.
The purpose of this web site is to help you learn about what has happened to your Stellar Brothers, and perhaps encourage you to pick up the phone to call or send an email to friends from our college days. In addition the web site will help us coordinate and announce a future gathering of Stellar Brothers at some point in the not too distant future.
First things first....join the web site!!!
ANNOUNCEMENTS
STELLAR BROTHERS FOOTBALL GATHERING - SEPT 25
There is a Stellar Brothers gathering planned for the September 25 football game against Illinois. A post-game party will be at John Prewett's house. Please spread the word and take this Survey to indicate if you plan to attend and how many tickets in the Stellar block you want us to purchase.
Note that the football game with Illinois is currently TBD. If the game ends up being a night game, we will have a tailgate party rather than a post-game party.
John's house is east of Lafayette near HWY 26 and I-65. Hotels are VERY close. SPOUSES or other guests are very welcome.
Regarding rain, John says his party at his house is a go rain or shine!

Save the date! Please come and have some fun!
John Prewett, '69 pledge
japrewett@comcast.net
765-404-2569 text or call
Circle Pines Co-op Suspended After Party
In case you missed this, Circle Pines Co-op hosted a party Wednesday, August 19 that violated the Protect Purdue Pledge. Thirty-six party attendees were summarily suspended, and the suspension applies to Circle Pines Co-op as well. How many of us are thinking, but for the grace of God that would have been us?
If we were further along in our project to stand up a new Stellar Brothers house, this Circle Pines house suspension may have been an opportunity to make a move. Leon Thacker (Fall 1959) is on the committee to explore new house options. Interested in joining the committee? Speak up!
*** CANCELLED *** Sept 19, 2020 STELLAR BROTHERS REUNION
Our Stellar Brothers September 2020 reunion has been cancelled. Postponed to September 2021. There is no urgent need to get together this year, and with most Stellar Brothers being in a high risk category, there is no pressing need to tempt fate during a pandemic.
We certainly hope we can safely hold it in 2021. Time will tell.
Assuming the pandemic has cleared out, our next Stellar Brothers reunion will be the weekend of September 19, 2020. Same format as previous reunions: Friday night dinner at local restaurant, pre-game lunch in private room in Stewart Center, Football game against Air Force, post-game party in back yard of Stellar Brother John Prewett's house (Pledge Class 1969), weather premitting, and Sunday morning brunch at Bob Evans. Attend as many or as few events as you like. More event details and registration info as we get closer.
Also this year during the reunion weekend, we are working to dedicate our "Stellar Brothers Historical Plaque" at 214 Marsteller Street. Joe Ely (Pledge Class 1971) is leading this effort.
We all hope the pandemic is long gone by then, and we very much hope you can attend.
214 Marsteller Demolition
The last year of the Stellar Brothers Co-operative House was academic year 1983-84. The physical house we all knew at 214 Marsteller Street was demolished on May 17, 1986. How do we know that? Because Stellar Brother Mike Ringer (Fall 1969) happened to be at Purude that day and stopped by 214 Marsteller to see our old house. To his horror, he witnessed the razing of the house. Below are two pictures he took.
Joe Ely (Fall 1971) has taken the lead in developing an "Historical Plaque" to place on the apartment building that rose from 214 Marsteller ashes.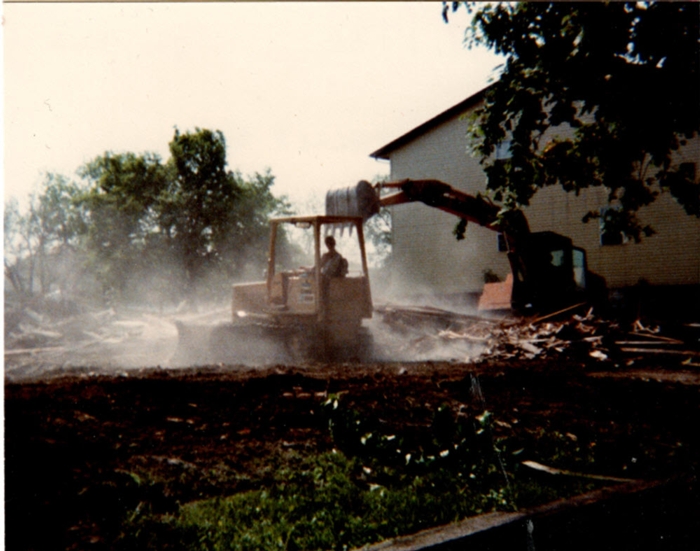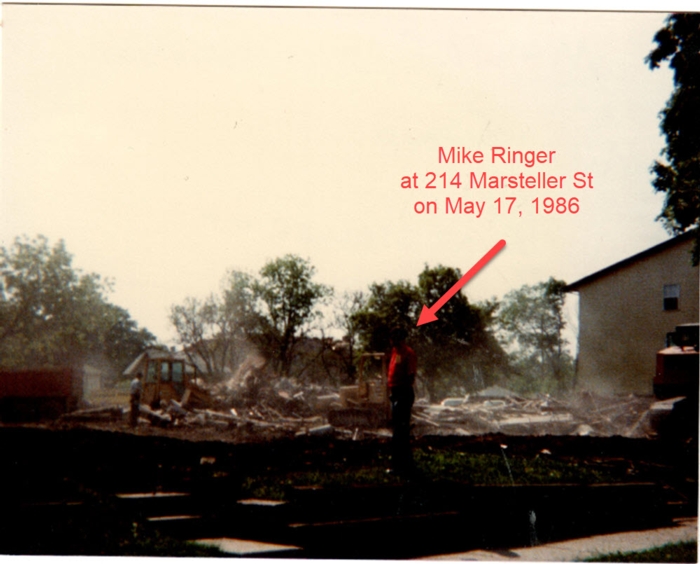 HOUSE MEMBERS LIST
Forgotten some of the names of your house brothers? Using Purdue Debris pictures we have assembled the list of Stellar Brothers members showing the pledge year and the years each member was a Stellar Brothers. In the 27 year life of Stellar Brothers, there were around 276 of us.
STELLAR BROS SCRAPBOOK 1970-71
We are posting on the website for the very first time the Stellar Brothers Scrap Book for Academic Year 1970-71. The Scrap Book is fifty years old with fragile pages, but the memories are quite vivid. The scrap book editor was Larry Washmuth (Pledge Class 1968). And John Prewett (Pledge Class 1969) saved it through the decades.
As you check out this scrap book, it is interesting note that it may document PEAK Stellar Brothers. That is, Stellar Brothers was founded AY 1957-58 and prospered for 27 years. A little Purdue EE129 math calculates that the halfway point would be AY 1970-71. Coincedence? Maybe. Maybe not.
PURDUE DEBRIS PICTURES
All 27 of the Stellar Brothers Debris pictures are now in a single document on the website. A mixture of emotions awaits as you scroll through the 27 years looking at the faces and reading the commentary.
To see the Debris pictures, click the "Purdue Debris" menu item or click here: Purdue Debris 1958-1984
STELLAR BROTHERS HISTORICAL PLAQUE
Help us with the text for a historical plaque that we plan to install at the site of our former Stellar Brothers house at 214 Marsteller Street. Below is version 1.0. Please send comments and suggestions to Joe Ely joeely618@gmail.com
STELLAR BROTHERS GATHER IN FLORIDA
We are relieved to report that no confirmed reports of public disorder were submitted to local authorities due to fits of laughter resulting from college era stories that are embellished with each telling. John Prewett (Fall 1969), Larry Washmuth (Fall 1968), Dave Haney (Fall 1969), Dale Huddleston (Fall 1970), Bill Siewert (Fall 1970), and John Huseman (Fall 1970) gathered in Florida in early January to enjoy their friendship and watch the Boilers embarrass #8 Michigan State.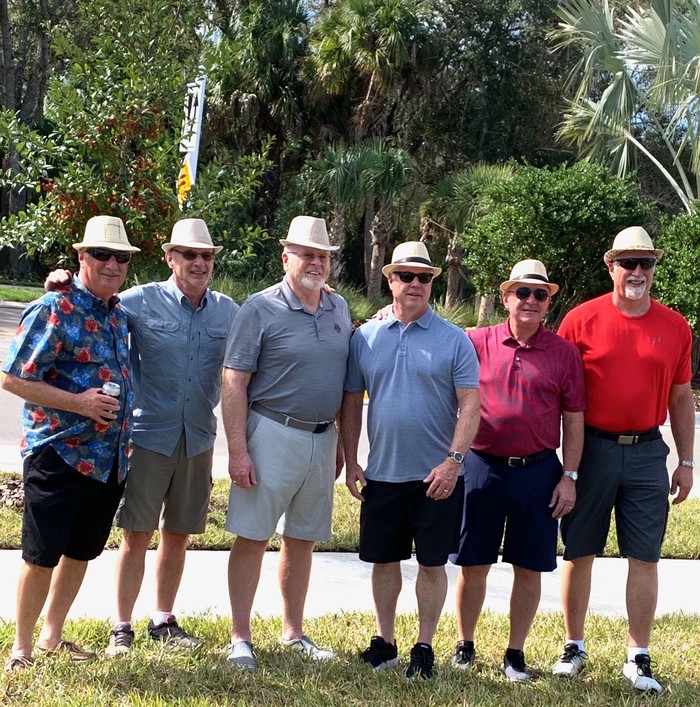 STELLAR BROTHER CONQUERS BOSTON MARATHON!!!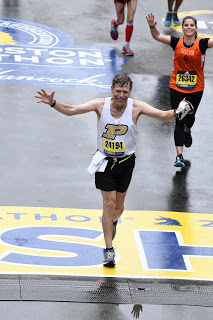 Stellar Brother Joe Ely, Pledge Class of 1971, so far has run a staggering 85 marathons, which is estimated to be 10 times more than the combined marathons run by the entire universe of Stellar Brothers. On April 15, 2019 Joe took on the BOSTON MARATHON. Although it is not known for sure, he is likely the only Stellar Brother to have run Boston. The picture to the right documents Joe in his Purdue shirt crossing the Boston Marathon finish line. Congratulations to Joe for successfully conquering the 26.2 mile course!
PICTURES FROM THE 2018 STELLAR BROTHERS REUNION
Another fun reunion as 25 Stellar Brothers met in West Lafayette on September 22, 2018. Beautiful weather, great stories, tasty food, enduring friendships, and a Purdue football victory were all part of a fabulous 2018 Steller Brothers reunion. Click here for reunion pictures. If you have pictures from the reunion, be sure to upload them to the web site....use the "Photo Gallery" menu item.
In our House Meeting, we got "life" updates from our House Brothers and also passed out various awards. We also decided to have the next reunion in 2020. And with much graditude, we again thank House Brother John Prewett and his wife Debbie for hosting the after-game party at their lovely home.
Pictures from the Epic 2016 Stellar Brothers Reunion!
Beautiful weather, great stories, tasty food, enduring friendships, a big turnout, and a Purdue football victory were are part of a fabulous 2016 Steller Brothers reunion. Click here for reunion pictures and click here for the summary of the house meeting. And if you have pictures, be sure to upload them to the web site....use the "Photo Gallery" menu item.
Stellar Brothers Photo Albums
With special thanks to John Prewett, there are four Stellar Brothers Photo Albums that have survived from our college days. To see them, click the "Stellar Bros PhotoAlbum" link on the left menu bar. Prepare yourself to see pictures from 45 years ago!!!
Calling All Stellar Brothers
You likely have not thought about your Stellar Brothers house mates in a long time. That is a small crime as some of the best friends in your entire life were made while at Stellar Brothers. Time to join the web site to find out what time has done to your house brothers. Please join the web site!