Whitefish Bay High School
Class of 1966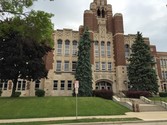 In Memory
Steve Grant
We believe Steve passed away. The information was derived via an obituary of Steve's older brother, Terry, which reads:
Grant, Terry John. Born to Eternal Life on November 1, 2006, age 60 years. Resident of Cameo Care Center, Milwaukee. Beloved son of Betty (nee Griebbel) Grant and the late John Grant. Brother of the late Steven Grant. Further survived by other relatives and friends.
Unfortunately, we cannot find additional information about Steve.
RIP Steve.