Whitefish Bay High School
Class of 1966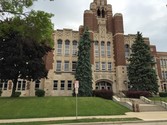 In Memory
Katherine Hochuli (Hengel)

KATHY HENGEL
BORN September 28,1948 DIED December 30,2012 at the age of 64 years.
MEMORIAL SERVICE
Messiah United Methodist Church
17805 County Road 6
Plymouth, Minnesota
Saturday, January 5,2013 at 2:00 P.M.
CLERGY OFFICIATING
Reverend Steve Richards

Katherine Elaine Hochuli was born on September 28, 1948 in Manhattan, KS to Wayne and Bonnie (Gray) Hochuli. She grew up in Whitefish Bay, WI, graduated from WFB High School and attended UW-Stout in Menomonie, WI. On April 19, 1975 Kathy married James "Jim" Hengel in Whitefish Bay. They moved to Minnetonka in 1971. Daughter Kristen joined the family in 1978; son John "Jay" in 1983. Kathy loved her family, church, craft, reading, music and her special friends in the BFF book club.

She also loved to travel. The entire family traveled to Scotland, Iceland, San Diego, Disneyland, Las Vegas and the beach of North Carolina. Kathy and Jim enjoyed trips to London, Durham, Scotland, Wilmington, Washington DC, Aculpulco, St. Thomas, and Key West. At Hopkins United Methodist Church, Kathy taught Sunday School, served as Director of Christian Education and on the Board of Trustees. Kathy was a life long Twins fan and attended many baseball games with her family. She also enjoyed the annual family reunion and tailgating at Miller Park in Milwaukee. Kathy passed in peace and serenity from the arms of Jim, Kristen and Jay to the arms of Jesus on December 30,2012.

She is survived by her Husband, James "Jim"; Children Kristen and John "Jay"; Sisters, Julia Andersen and Laura Hochuli (Philip Hamp); Brother, Ned Hochuli (Karen); Brothers-in-law and Sisters-in-law, Nieces, Nephews, and Other Loving Relatives and Friends.