Whitefish Bay High School
Class of 1966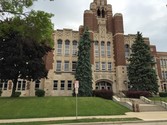 In Memory
Stanley Ottenstein
Stanley M. Ottenstein, owner of Finders Research Services, died of a heart attack in Toluca Lake on Dec. 26. He was 57.
The film researcher and TV segment producer collapsed suddenly from heart disease. Ottenstein founded stock footage firm Finders Research in 1989.
For director Robert Greenwald, Ottenstein conducted clearances for "Wal-Mart: The High Cost of Low Price" (2005) and "Uncovered: The War on Iraq" (2004).
Ottenstein and his firm worked on films incuding "Courage Under Fire" and "The Siege" for director Edward Zwick, "James Dean," "Howard Hughes: His Women and His Movies," "Mandela and de Klerk" and the "Ellen (De Generes)" show.
Raised in Milwaukee, Ottenstein attended the U. of Wisconsin and the U. of Santa Monica. After launching his research career at Dick Clark Productions, he advanced to TV co-producer and senior segment producer credits in the 1990s.
He also contributed material to comedienne Phyllis Diller, wrote humor for the Daily Breeze newspaper and appeared at The Comedy Store nightclub.