Whitefish Bay High School
Class of 1966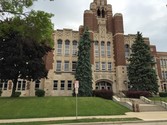 In Memory
Richard Stephens
Richard Stephens passed away Wednesday, October 29, 2014, at age 66. He was born in Bloomington, Ill. on February 27, 1948.
Richard graduated from high school in 1966, and served in the U.S. Army from 1968-70. Stephens stayed for an extended tour in Vietnam as a soldier in the 101st Air Cavalry and was awarded a Purple Heart and The Bronze Star. He drove over five-million miles in his career as a truck driver without a chargeable accident. He retired in 2012.
Racing was his passion as he hauled and worked on race cars for five decades. His partnership in The Race Shop in Tulsa, OK resulted in national championships in 1996, 2004, 2005 and 2014. The latest was in the Sports Car Club of America's Runoffs at Laguna Seca Raceway in Monterey, Calif., on Oct. 10. Stephens was past President of The Tulsa Vette Set and Regional Executive for the NeOkla Region, SCCA. He also was named National Worker of the Year in SCCA. Richard served as Course Marshall for SCCA road racing at Hallett Motor Racing Circuit for over 30 years. Stephens spent much more time helping other people with their cars than working on his own. He was also quick to help family and friends with home-related tasks. Richard was assisting a neighbor when he was severely injured in a fall Monday, October 27, 2014.
Richard is survived by: his mother, Suzanne Stephens; sister, Mary Sokol; brothers, Jim and Don Stephens; and nine nieces and nephews. Plans are for a Memorial Service at Hallett Motor Racing Circuit (59901 E 55 Rd, Jennings, OK 74038) during the SCCA races there in April.