Whitefish Bay High School
Class of 1966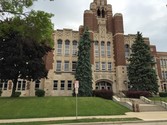 In Memory
James Stringer
Personal note from Jim's wife, Leslea:

I am sorry to say. Jim Stringer passed away at the end of January 2016. He had been ill for quite awhile.

Jim had been a CPA since 1970, specializing in tax and small business. He loved living in Colorado and enjoyed the sporting activities. He took advantage of hiking and camping.

Jim felt since his graduation from Whitefish Bay that he had a wonderful life of learning and exploration.

Leslea also sent the below from Jim's Memorial service:

"Jim was born and raised in Milwaukee, Wisconsin. He left after high school graduation to explore the world. He went to college in San Diego, and then transferred to Whittier College. He graduated from Whittier College with a BA in Business - Accounting in 1970. He pursued his passion of being a CPA and working in the tax field.

At Whittier College, he met Leslea at the Episcopalian Youth Group Gathering. They dated for four years and married on Leslea's birthday in 1972. She said Jim and their marriage were the best birthday present she could have. They were married over 43 years.

Jim and Leslea moved to Colorado in 1975 and found a lovely home in Bloomfield. Jim enjoyed living in Colorado, as it provided wonderful opportunities to ski, hike, and camp. His favorite places to camp and hike were in the Waterton Lakes and Glacier National Park. They did not have children, but they had a love of dogs. Over the years, they loved eight dogs. Brantley and Piper are their latest. Red Tulips and yellow Labradors were Jim's favorite things in their back yard.

Jim's mother Nancy Liginger Browne is still living in Milwaukee. His brothers and their families, Terrence and Connie Stringer and Warren and Joy Stringer, also live in Milwaukee. His sister, Nancy Stimson, and her significant other, David, live in Arvada, Colorado. There are many nephews and nieces living all over the country. The Many friends and members of holy Comforter are considered an extended family. Jim died after a long illness and is at peace. He will be truly missed."