Whitefish Bay High School
Class of 1966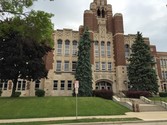 In Memory
Robert Swedlow
We were unable to locate an obituary, but thought the memories posted at the time of his passing were appropriate to repeat here. He was still living in Fort Lauderdale and had just turned 62.
---
Monday, October 11, 2010
It was with great sadness that I learned of Bobby's passing. But it is with great warmth and fondness that I remember the fine young boy and the many good times we spent at Cumberland school, riding our bikes down Sheffield, and playing basketball at AZA. I will always cherish the special memories of this special man.
Stuart Turnansky, Phoenix, Arizona
---
Sunday, October 10, 2010
Like those who have written here before me (and Stuart who just called me), I lost touch with "Bobby" years ago but vividly recall growing up with him in Whitefish Bay. Grade school and high school, birthday parties, Temple Shalom, cars, girls, family ... That's the Bobby I'll warmly remember and miss. My sincere sympathy to Steve and others who knew Robert, became close to him over the intervening years, and deeply feel his loss.
David Gill, Oakland, California
---
Saturday, October 09, 2010
Bob will be missed by all who knew him.My heartfelt condolences to Steve and his family.
Bill Deshur, Milwaukee, Wisconsin
---
Monday, September 27, 2010
We just found out that Bobby was gone....we don't know what happened. In recent years we have thought about Bobby, sad that time had slipped between us, recalling the diminutive yet charismatic smart brain (with the best hair!!) that he was when we knew him. We loved you, Bobby.... and hope that you have found peace.
with love, Douglas and Cathy Soref
Douglas and Cathy Soref, Locust Valley, New York
---
Sunday, August 29, 2010
I am another neighbor, classmate and friend from Sheffield Avenue with many great memories of growing up with Bobby as we called him. I am sending my condolences to Steve and the rest of the family.
Norma Gilson, Milwaukee, Wisconsin
---
Sunday, August 22, 2010
As kids on Sheffield, Bob and I were best friends. I have so many great memories of our times together. I am very sad we have lost him.
Peter Hamilton, Portland, Oregon
---
Saturday, August 21, 2010
I was so saddened to hear.
jeffrey weber, phoenix, Arizona