Whitefish Bay High School
Class of 1966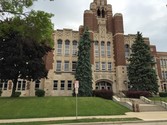 In Memory
Barbara Weber (Zamsky)
BARBARA ZAMSKY Barbara "Barb" Weber Zamsky, 67, a retired administrative assistant, of Las Vegas, passed away Monday, Nov. 16, 2015. She was born June 17, 1948, to William and Ruth Weber (nee Leon) and was a Las Vegas resident since 2004. Barbara is preceded in death by her parents. She is survived by her beloved husband, of 22 years, Marvin; son, Robert Steven Macklin of Las Vegas; and sister, Judith Weber of Chicago.
---
From a good friend of the Class of '66, Suzanne Coan:
Barbara graduated from UW-M where her major was Anthropology. The one course she took on medical terminology directed her career path. She ran the offices of some dentists in Milwaukee and in Las Vegas was a medical administrative assistant. She was proud of her husband and son. Her husband is an artist who did commercial work and also fashion sketches for the newspaper Her son Bobby is a certified bilingual pharmacy technician. They moved to Las Vegas because a friend was part owner of a hotel there. They enjoyed going to Las Vegas shows and restaurants and then coming back to their quiet home in the suburbs.
Rest peacefully Barb.