Whitefish Bay High School
Class of 1966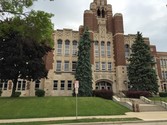 In Memory
Ann (Sandy) Wilmeth
We were unable to locate an obituary for Sandy, but here is what we do know:
Sandy was born in Wisconsin on May 24, 1948. At the time of her passing Sandy lived in the San Diego area and passed away on September 5, 1989. She was buried on October 23, 1989, in Crown Hill Cemetary in Indianapolis, Indiana. Sandy graduated with a law degree from Emory University in 1975. From a memorial posting:
Dear Sandy Ann, Today (July 20, 2010) I stopped by the County of San Diego Recorder's Office to see your death certificate. I wanted to find out where you were laid to rest. We briefly met sometime in the 1970s, and you were converting to Judaism. I think you were studying with Rabbi Soille in San Diego. I know you also were battling with MS. We once spent a Shabbat together, near Balboa Park, where you were living. I remember you as a wonderful, gentle soul. Somehow, we lost track of each other when I moved to Los Angeles in the 1980s. I'll never forget you...Jay (Yaakov) Schwartz
As was noted by Susan in her comments below and above, Sandy battled Multiple Sclerosis (MS), a disabling disease of the central nervous system that disrupts the flow of information within the brain, and between the brain and body.
If you are ever on Sanibel Island, Florida, check out Sandy's Walk, a nature boardwalk dedicated by Sandy's parents in memory of their daughter.
Rest in peace Sandy.