Chillicothe High School
Class of 1989
After 1989...
(The following images were submitted by Jennifer Diley, with identification and captions by moi.)

Lissa, Theresa, Caroline, Mary Anne, Jennifer, Jackie
Judith, Shauna (nice face!), Emily, Tracy
@ the Harken Lounge, 1990

Susan, Emily, Jennifer, Theresa, Shauna
Lissa, Jackie, Judith

Shauna, Susan, Mary Anne, Jennifer, Judith, Theresa, Lissa
atop Squaw Peak Mountain, Phoenix * 2001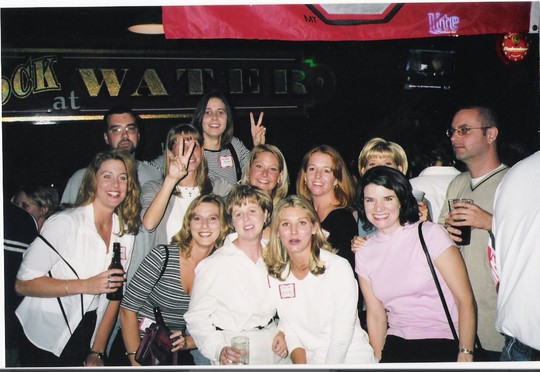 Jackie W., Nate, Theresa, Mary Anne, Jennifer, Emily, Lisa, Judith, Lissa, Carrie, Shauna, Eric P.
at the Dock, 10-year reunion
(Nate & EP are surrounded by beautiful girls... they look so happy!)

Back Row: Jackie W., Chris T. (Emily's hubby), Emily, Lisa, Theresa, Eric J., Mary Anne, Jackie, Nate
Front Row: Susan, Shauna, Jennifer, Eric P., Bryan, David, Judith, Lissa, Jennifer W. Karen, Carrie

Back Row: Jay, Tyke?, Carl, Eric P., Nate, David, Eric J.
Front Row: Derek, Craig, Bryan, Geoff, J.T., Mike

Yeah... ummmm... I'm not ID'ing this shot...

EJ, Geoff & Carl, with Nate & Cam in the background

Felicia, Tya, and Scott N.
And who can forget our beloved Scottie B.,
bustin' a move... bustin' his butt to do The Worm
... and then bustin' his chin open