In Memory
Walter Blaich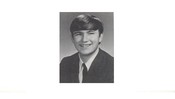 Walter Hamilton Blaich
WAPPINGERS FALLS - Walter Hamilton Blaich, 59, of Wappingers Falls died Friday, February 25, 2011 at Vassar Brothers Medical Center.
Born in Peekskill on October 23, 1951, he was the son of the late Walter H. Blaich Sr. and Teresa Tivnon.
On July 28, 1973 at Church of the Assumption in Peekskill, he married Patricia A. Leonard. Mrs. Blaich survives at home.
Mr. Blaich was a sales representative for Mid Hudson Security Systems, Inc. in Wappingers Falls.
Walter loved music and was a guitar/bass player in many bands in his youth. He also loved to fish, build model railroads, and vacation with his family at the shore.
In addition to his wife Patricia, Walter is survived by his 3 children; Meredith Calderon and her husband Richard of Wappingers Falls, Jeffrey Blaich and his wife Alison of Sanford, FL., and David Blaich of Wappingers Falls and his girlfriend Linda Wroblewski; his 2 grandchildren, Michael and Abigail Calderon, who loved to call him "Baba"; his sister, Kathryn Gerow and her husband Dudley of Lewisburg, PA; his sister in law, Kathleen Bristol and her husband Kevin of Peekskill; a cousin, Peggy VanDeloo of Schenectady; his brother in law, Robert Leonard, Jr. and his wife Eva of Cold Spring, his sister in law, Mary Pironti of Highland; and several wonderful nieces and nephews and his dear friends.
Visitation will be Tuesday March 1, 2011, 3-6 pm at Robert H. Auchmoody Funeral Home, 1028 Main St., Fishkill followed by a celebration of his life at
6 pm at the funeral home. Interment will be at the convenience of the family.
Memorial donations may be made in Walter's memory to the
American Cancer Society
, 2678 South Rd., Poughkeepsie, NY 12601.
If you would like to sign a guest book for Walter, please visit www.HudsonValley Funeral
Homes.com
.