Rhein Main Air Base
1950-2005
Get A Reunion Coin!
Here's your chance to purchase your own official Rhein Main Reunion Coin - this beautiful full-color coin representative of the time you spent at the "Gateway to Europe." If you are attending the reunion, you will receive one coin in your reunion welcome package; this is an opportunity for anyone who will not be able to attend the reunion, or would like to have an extra coin to purchase.
Challenge coins have been used as a valuable recognition tool dating back to the First World War. Military units began using challenge coins as a discreet way of claiming membership to a specific unit. The possession of a challenge coins was known to have saved the life of a captured American service man during a rescue attempt. The coin was the only form of identification in his possession that proved he was a member of the American military forces. You can be proud to possess a coin which represents your service and our shared experiences during our time at Rhein Main Air Base.
Cost for your
Rhein Main Reunion Coin
is
$10 plus $3.25 shipping/handling
(unless you opt to pick up your coin at the reunion) You may order yours at the 2017 Reunion Registration tab on the left side of the reunion website.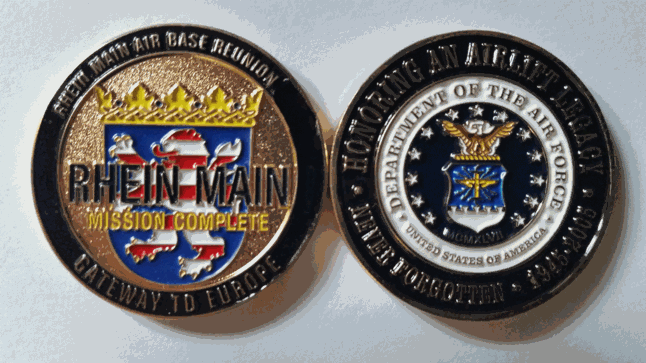 If anyone would like information for hosting their own reunions, I'd like to recommend

The Military Reunion Network
Sharon Danitschek - President
Sharon Danitschek <sharon@militaryreunionnetwork.com>