Rhein Main Air Base
1950-2005
In Memory
Don (Col) Brewer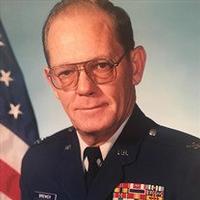 Donald "Don" Brewer, Colonel, USAF, Ret
Born: October 9, 1936
Passed: December 27, 2019
Col. Donald Ray Brewer (Ret.)
October 9, 1936 - December 27, 2019

https://www.grantmemorialchapel.com/obituaries/Donald-Brewer-7/
Colonel Donald Ray Brewer, Ret., age 83 of Grant, Alabama passed away Friday, December 27, 2019 at his residence.
Funeral services will be held at 2 p.m. Tuesday, December 31, 2019 at Grant Church of Christ with David Powell and Clayton Tuggle officiating. Burial with military honors will follow in Panquin Cemetery. The family will receive friends from 6-8 p.m. Monday at Grant Memorial Chapel. The body will lie in repose from 1 p.m. until time of service on Tuesday at Grant Church of Christ.
The family will accept flowers or donation so may be made to Grant Church of Christ or to Families of Fallen Soldiers, in his honor.
Col. Don Brewer is a native of Grant, Alabama, the son of J. L. and Dollie Foster Brewer. He graduated from Kate Duncan Smith DAR High School in 1954, worked for the FBI in Washington, DC as a fingerprint specialist for a time, and enlisted in the DC Air National Guard. Called to active duty with the Air Force during the Pueblo Crisis, he remained in the Air Force until retirement with over 38 years of service.
His educational background includes a Master of Business Administration Degree from the University of Maryland. He is also a graduate of the Squadron Officer School, Air Command and Staff College, The Industrial College of the Armed Forces, and the Air War College. His decorations include the Bronze Star Medal for service in Vietnam, and the Legion of Merit.
During his military career, Col. Brewer held every rank in the Air Force from Airman Basic through Senior Master Sergeant, and from 2nd Lt. to Colonel. He says the highlights of his career were commanding the military air terminal at Kadena AB, Okinawa, service in the air terminal at Rhein Main AB, Germany, and as Director of Air Transportation for the Pacific Theater while stationed at Hickam AFB, Hawaii.
He and the former Jean Kirkland, daughter of late Homer and Ruth Kirkland of Grant, were married for 64 years. Together, they raised three children: Roger (Jo Donna) of Grant, Jennifer of Huntsville, and Renee of Seattle, Washington. They also had three grandchildren: Christa Frangos of Huntsville, Chelsea Brewer Hagen (Mat) of Dothan, and Chandler Brewer (Sidney) of Montgomery. Along with his parents, he was preceded in death by 5 brothers and 4 sisters.
Arrangements Entrusted to Grant Memorial Chapel.
To send flowers or a memorial gift to the family of Col. Donald Ray Brewer (Ret.) please visit our Sympathy Store.
https://www.grantmemorialchapel.com/obituaries/Donald-Brewer-7/#!/Obituary


https://www.grantmemorialchapel.com/obituaries/Donald-Brewer-7/#!/Obituary