Rhein Main Air Base
1950-2005
In Memory
James C. "Casey" Casey VIEW PROFILE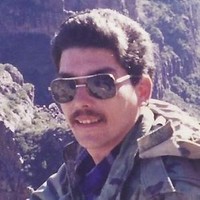 James "Casey" Charles Casey, Jr
Born: 2 September 1961
Passed: 21 March 2013

James "Casey" Charles Casey, Jr., age 51 of Albia, passed away Thursday, March 21, 2013, at Monroe County Hospital in Albia.
Casey was born September 2, 1961 in Erie, PA. He grew up and attended school in Pennsylvania before joining the U.S. Air Force where he was a survival equipment specialist, working with combat controllers and pararescue. He married Betsy Fohner on July 18, 1992 in Corry, PA.
Casey was a talented auto-trimmer most his life, which he learned while in the Air Force. He was a quiet and gentle mannered man with a great love for his family and friends. He was an avid outdoorsman, enjoyed hunting and fishing, caring for his dogs, and also was a great handy-man; helping anyone who asked.
Casey is survived by his wife, Betsy Casey of Albia; parents, Michael and Dolores Bull of Moravia; two children, Ann Marie (Keith Willis) Orsini of Elgin, PA and Joseph Anthony (Melissa) Orsini; four grandchildren, Shyan Lindstrom, Joseph, Lillian, and Tessa Orsini; and four sisters, Terry (Mark) Shultz of Belle Vernon, PA, Kimberly (William Briggs) Thomas of Corry, PA, Zelda Messinger of Corry, PA, and Phebe Bull of Corry, PA. He is also survived by two sisters-in-law, Cheryl Young of Erie, PA and Kim (Ed) Forget of Springfield, PA; three brothers-in-law, James Fohner, Larry Fohner and Neil (Karen) Fohner, all of Erie, PA; and many aunts, uncles, nieces, nephews, and cousins.
Casey was preceded in death by two brothers, Michael Bull, Jr. and David Bull; grandparents, Isaac and Edith Lunger and Richard and Phebe Robinson; a nephew, Dustin Thomas; an uncle, James Robinson; and a mother-in-law, Anna Ross.
Funeral services will be 3 p.m., Saturday, March 23, 2013, at Tharp Funeral Home in Albia, with Dennis Doud officiating. Military rites provided by the American Legion of Albia, Lovilia, and Melrose will follow services at the funeral home. As were Casey's wishes, his body will be cremated following the service.
Visitation will be 1-3 p.m., Saturday, March 23, 2013, at Tharp Funeral Home in Albia, with James family present during that time.
Memorials may be made to Casey's family.
http://hosting-3075.tributes.com/show/James-Casey-Charles-Casey-95481908?f_e=1
http://findagrave.com/cgi-bin/fg.cgi?page=gr&GSln=casey&GSfn=james&GSmn=c&GSby=1961&GSbyrel=in&GSdy=2013&GSdyrel=in&GSob=n&GRid=107136875&df=all&
Click here to see James C. "Casey"'s last Profile entry.