Rhein Main Air Base
1950-2005
In Memory
Warren Stanley VIEW PROFILE

Warren B. Stanley
Born: April 6, 1933
Passed: May 20, 2015

Legendary Rhein-Main Air Base West Germany Coach Warren B. Stanley passed away on Wednesday, 20 May at the age of 82 in Clearwater, Florida after a brief illness. Warren was born at home in Minneapolis, MN on April 6, 1933 but the family soon moved to Glen Rock, NJ with his 4 brothers and one sister. Always engaging and a natural born athlete who excelled at every sport, he graduated from Ridgewood High School, Ridgewood, NJ in 1951 and attended NC State College on a baseball scholarship; however, the Korean War interrupted and he was drafted in the Army and served 2 years in Germany as a medic and played on the post Army baseball team with some of the major leaguers of the day who were also drafted (Don Newcomb and Gus Triandos). He met the love of his life, Topsy, in college in they were married in 1956. He then pursued a career as a stock broker on Wall Street. After 10 years, Warren accepted a position as a financial advisor to the troops and American ex-pats in Germany. The family now included Doug and Karen and left NJ for a 2 year stint in Frankfurt, Germany. The 2 years became 22 years and were the happiest, most satisfying & enjoyable days of his life and his family. Warren volunteered coaching his son to a Little League European Championship and continued to lead the men's military Rhein-Main Rockets AF baseball, basketball and football teams to championships for the next 20 years. The road trips lead to AF bases throughout Europe, including Germany, Spain, United Kingdom and the Netherlands with "ambassadors of goodwill" trips to Luxembourg, France and Portugal. Stanley coached the Cold War era Rhein-Main AB military "Rockets" basketball, baseball and football teams of USAFE Continental Sports Conference from 1975-89 to a combined 7 USAFE titles: 2 basketball in 77,79; 3 baseball 81-83 and 2 football crowns 88-89; earning him the nickname the "Winningest Coach in the Air Force". He also coached the 16-18 age European Baseball All-Star team in the Big League Division of Little League World Series in Fort Lauderdale, Florida, to its first ever victory by military brats in the tournament in 1978 defeating powerful Venezuela. In 1988, he turned around the R-M military football team and led them to an 13-0 undefeated championship to capture R-M's first title in many years and followed that with another USAFE Football Championship in 1989, his last year of coaching. He was named Coach of the Year in all 3 sports as well as being named football coach of the 80's by the Stars & Stripes. Always sharply dressed and well spoken, he represented Rhein-Main and the Air Force with class and distinction. Warren was a winner, produced winners of men through sports with his Christian faith examples of life skills & his exceptional leadership qualities. He encouraged all the players to be the best they could be and his legacy is alive today, 40 years later. He is survived by his beloved wife of 59 years, Sherry (Topsy) Stanley of Clearwater, Florida; children Douglas Stanley of San Antonio, Texas and Karen (Ray) Dicker of Nashville, Tennessee; granddaughter Marina Stanley of Kiev, Ukraine. A celebration of life will be held at Memorial Park Funeral Home on Tuesday, June 9th at 10am with a committal service to follow at Bay Pines Cemetery at 12:45pm. In lieu of flowers the family requests that donations be made to the Wounded Warriors Project at www.helpwwp.org.



https://www.findagrave.com/memorial/147221232/warren-b_-stanley
********************************************************************************************************
Coach Warren Stanley being given a home team Jersey that was signed by who was in attendance at the 30 year reunion for the Rhein Main Rockets Baseball Teams, from 81-83 in Clearwater, Florida. Sept 6-9th, 2012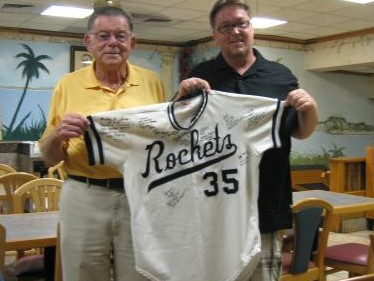 1983 Rhein Main Rockets Baseball team that went 35-5 and won the USAFE Championship. Coached by Warren Stanley


Rhein Mainers........Coach Warren Stanley who you recall coached the Rockets in Basketball, Baseball and Football, and won USAFE Championships in all three, his wife Topsy ran the Sports Center in the Hotel and their son Doug Stanley worked in the Gym. Well, Coach is having health issues right now and is in Northside Hospital in Pinellas Park Florida. He is recovering but still has a ways to go.

Doug (son) and Warren Stanley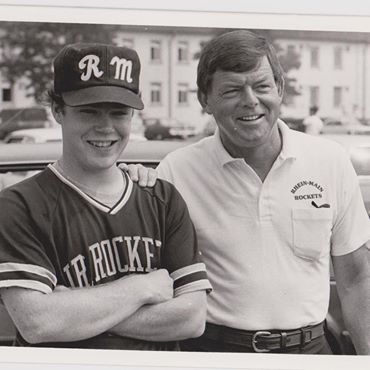 Warren Stanley impacted many lives in the Rhein Main community for many years as a successful business man, father, husband, Coach, friend and mentor.
https://www.memorialparkfuneralhome.com/obituaries/Warren-Stanley/#!/Obituary
Click here to see Warren's last Profile entry.