Rhein Main Air Base
1950-2005
In Memory
Hugh III Tate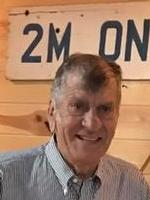 Hugh V. Tate III, SMSGT, USAF, Ret
Born: 30 January 1945
Passed: 18 March 2019
435 SPS lost a great 1st Sgt on 18 March 2019.
SMSgt Hugh Tate has gone to the last recall.
RIP Brother your mission is done, Salute
Hugh V. "Butch" Tate III, 74, of Hibbing, died Monday, March 18, 2019, in his home with family at his side.
He was born Jan. 30, 1945, in Hibbing the son of Hugh Jr. and Agnes (Stensland) Tate. He was a graduate of Hibbing High School and the Hibbing Area Technical College. Butch was united in marriage to Charlotte S. Hogback on June 3, 1967, in Hibbing. Butch was a retired Senior Master Sergeant with the U.S. Air Force, and a decorated Vietnam veteran.
Butch was a member of Blessed Sacrament Catholic Church, the DAV, VFW, Air Force Sergeant's Association, and the Honor Guard. He enjoyed camping.
Butch is survived by his wife, Charlotte; daughters: Lisa Marie (Jason) Kangas of Las Vegas, Nev., and Tara Suzanne Tilson of Hibbing; siblings: Elizabeth Moore of Hibbing, Timothy (Yolanda) Tate of San Antonio, Texas, and James (Nan) Tate of Stillwater, Minn.; grandchildren: Megan, Shelita, Raina and James; great-grandchildren: Maliena, Andre, Talon, Calvin, Devine and Vincent; and numerous nieces, nephews, extended family, and extended military family.
He was preceded in death by his parents; and his sister, Eileen.
Funeral: Memorial service will be at 11 a.m. Monday, March 25, at the Anderson-Daniels Funeral Home Chapel. Deacon Timothy Tate will officiate.
Visitation: Will be for one hour prior to the service at the church.
Burial: Inurnment will be in the Hibbing Park "Maple Hill" Cemetery.
Family services are provided by Anderson-Daniels, a Bauman Family Funeral Home, in Hibbing. To express condolences on-line please see: www.baumanfuneralhome.com.
https://www.hibbingmn.com/obituaries/hugh-v-butch-tate-iii/article_abaf9b00-4aab-11e9-bc26-9351e391fa5e.html
https://www.hibbingmn.com/obituaries/hugh-v-butch-tate-iii/article_abaf9b00-4aab-11e9-bc26-9351e391fa5e.html