Annandale High School
Class Of 1972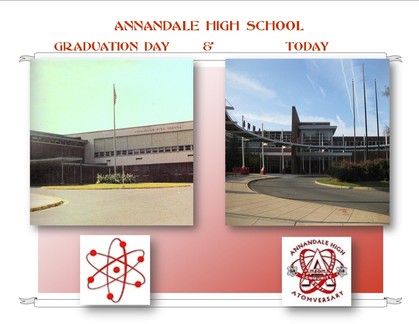 Annandale High School
Class of 1972
Welcome
We're glad you stopped by!
_______________
1972
School's Out for Summer
_______________
Favorite Math Teacher Passes -
JoAnn Strickland, Fairfax County educator
JoAnn Strickland, 75, a longtime Fairfax County math teacher who retired in 1990 as a personnel specialist for the county school system, died Aug. 22 at her home in Raleigh, N.C. The cause was myelodysplastic syndrome and complications from Parkinson's disease, said a friend, Marie Baglio.
Dr. Stri
ckland was borh in Bunnlevel, N.C. She began with Fairfax County schools in 1962, spending much of her career at Annandale High School and becoming math department chairman there. For 25 years, she also did part-time real estate work for Red Carpet-Al Smith Real Estate in Alexandria. She moved to Raleigh from Fairfax County about six years ago. Her memberships included Ravensworth Baptist Church in Annandale and Delta Kappa Gamma International, an organization for female educators.
ANNOUNCEMENTS
•

Farewell Mr. Finch, former Annandale HS principal

Jim Finch, the much-admired principal of Annandale High School from 1966 to 1986, died Feb. 18 at an assisted living facility in Hendersonville, N.C. He was 92 and suffered from a variety of ailments.

He "passed away peacefully in the presence of his loving family," his daughter Dana Conlon reported on Facebook.

"Not only did he love his students, he loved his faculty, his support staff, and parents," Conlon wrote. "He considered them equal partners in the success of the AHS community. Dad loved to hire former students as teachers, coaches, and support staff. Once an Atom, always an Atom!"

Finch joined the Annandale faculty in 1957 as a history teacher and coach and was named assistant principal in 1960.

In 2018, Finch was among the first group inducted into the Annandale Athletic Boosters Hall of Fame.

Every year, the Annandale PTSA awards the James Finch Service and Leadership Scholarship to a student who has demonstrated outstanding leadership, school spirit, and community service.

Finch grew up in Greensboro, N.C. He served as student body president in high school. He graduated from Guilford University, joined the Navy, then earned a master's degree in history from the University of North Carolina in 1954. He was a member of the Naval Reserve, retiring in 1970 with the rank of commander.

Finch spoke his time at Annandale High School in an interview for the Oral History of the Principalship conducted by Virginia Tech in 1987.

At the beginning of his time as principal, AHS was part of a community where most people owned their own homes and took pride in their school, he recalled. It was like a family – "a family of teachers and students and the community."

A key part of the community's support for the school was due to the Annandale Atoms powerhouse football team, which won five state championships during Finch's tenure (and a sixth in 1993) and won the National Championship in 1978.

Over the decades, the community became more transient as apartments were built in Annandale, and the population became increasingly diverse, he recalled.

"Annandale was still a good school. There are still many things there that are very positive. And the thing that both my predecessor and I tried to present about Annandale was that the good years were still ahead," he said. Finch was the second principal of Annandale, following Ralph Buckley, who was principal when the school opened in 1954.

Finch described his leadership philosophy for AHS as helping young people "develop sound bodies and sound minds and seek goals before they moved on from high school."

•
www.annandalehigh1972.com