Babylon Jr/Sr High School
ANNOUNCEMENTS


CONGRATULATIONS CLASS OF 1977!
YOUR 40TH HIGH SCHOOL REUNION
WEEKEND STARTS NOW!!
BHS "Class of 1977" 40th Reunion Weekend
Keep up-to-the-minute with HASHTAG FOR YOUR
WEEKEND SELFIES!! #BHS40Reunion77
OR #40BHSREUNION77
see you at Cedar Beach on Friday!
We have only 10 tickets left for Saturday @BayVue-
See Allison at Cedar Beach Hut to claim one! SEE US
ON FRIDAY OR DARE AT THE DOOR! THE PARTY IS
GOING TO BE A VERY CASUAL YET FAB VIBE WITH LOTS
OF FUN, SURPRISES AND EXCITEMENT! WE HAVE A
CAPACITY AT THE VENUE - SO IF YOUR SCHEDULE
NOW PERMITS ATTENDANCE - CALL US!
Contact: Allison Reeves Greenman - (631) 872-1265
Email: BHS.40Reunion77@gmail.com
DON'T FORGET TO BRING A NON PERISHABLE
FOOD ITEM TO THE SCHOOL TOUR / SAINT JOSEPH
BREAKFAST! AND PICK UP YOUR TSHIRT THERE!
BABYLON VILLAGE BUSINESS DOWNLOAD OUR
FLYER AND POST IT IN YOUR STORE WINDOW
TO WELCOME HOME - THE CLASS OF 1977!
THANK YOU TO OUR BUSINESS SUPPORTERS!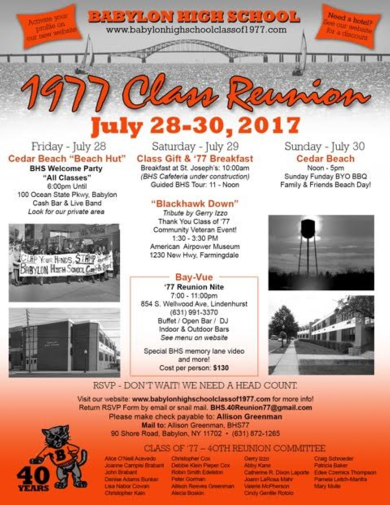 DOWNLOAD AND PRINT A COPY OF THE EVENTS FLYER
DOWNLOAD SUNDAY VENUE CHANGE FLYER
Special Thanks to the very dedicated
BHS Class of 1977 Reunion Committee:
Allison Reeves Greenman, Catherine R. Dixon
Laporte Kaplansky, Debbie Klein Pieper Cox,
Peter Gorman, Christopher Cox, Patricia Baker,
Gerry Izzo, Craig Schroeder, Alice Acevedo
O'Neill, Denise Adams Bunker,
Valerie McPherson, Lisa Nabor Cowan,
Abby Kane, Joann LaRosa Mahr, Alecia Boskin,
John Brabant, Joanne Campisi,
Pamela Leitch Manfra, Chrstopher Kain,
Robin Smith Edelson, Edee Czernics Thompson,
Mary Mulle, and Cindy Gentile Rotolo.
The class expresses special thanks to:
Babylon Junior Senior High School,
Visit our friends on their website and
stay tuned for our
Business Friends page for more! Coming Soon!
----------
"PAY IT FORWARD"
YOU HAVE SEVERAL OPPORTUNITIES
DURING OUR 40TH REUNION WEEKEND!
.
CLASS OF 1977
PLEASE BRING A NON-PERISHABLE
FOOD ITEM TO SAINT JOSEPHS ON
SAT MORN FOR THE SAINT JOSEPH'S
FOOD PANTRY!
MEET US FOR BREAKFAST IN THE:
SAINT JOSEPH'S O'CONNELL ROOM -
GRAB A BAGEL, TREATS & A CUP OF JOE!
GET A MINI-TOUR OF OUR SCHOOL,
DROP OFF YOUR FOOD ITEMS
(If traveling into town, stop off at the Deli (same bat station)
and help us re-stock the SAINT JOSEPH'S FOOD PANTY!
SEE YOU THERE '77!
SEE FLYER FOR FULL EVENTS SCHEDULE!
---------------
Our Hometown Radio Station Joins the Fun!

We tuned in to 102.3 WBAB back in the '70s and
they are still rockin' the airwaves with our favorite tunes.
I love this mod logo with the rounded edges! Speaking of edgy,
Catch 102.3 WBAB when they join us at the American Airpower
Museum for "Black Hawk Down" a talk by Gerry Izzo,
a community service event for Veterans presented by
the BHS Class of 1977 Reunion Committee in
partnership with American AirPower Museum.
.
-------------------------------
6pm
Friday Nite is BHS Night -
Mystic performs!
'77 invite your friends from "75, '76 & '78.
----
WELCOME "FRIENDS OF '77"
Classes of '75, '76 & '78
JOIN US on

SATURDAY NITE too!
ADVANCE RSVP Required

! Space is Limited!
See us on Friday Night at Cedar Beach Hut - to get your tiks!
WELCOME BEACH NITE IS
OPEN TO ALL BHSers!
Cash Bar!
Look for our Gilligans Island Panther Flag!
('78 - our pleasure to gift this beautiful 40th flag to you
at the end of our festivities!

Designed by Peter Gorman)
WHERE TO FIND US?
Cedar Beach - '77 special private spot
lower deck beach side!
S

ee you there!

RAIN or SHINE - we move inside -
unless of course its a monsoon - then check back
here for where we plan to move the party to!
For now - It's On at the Beach!

BHS CLASS OF '77!
Psst...IT'S COMING! JOIN US! IT HAS BEEN 40 YEARS!!
YOUR REUNION COMMITTEE IS COOKING UP THE FUN!
WHO IS COMING to OUR 40th?? (Partial list)
NOTE: as of Thursday, July 27th - If you have not Advance RSVP
and are planning to attend, please notify Allison. We have 10 tiks
or so left and have opened our Reunion Night to "Friends of '77"
from the Classes of '75, '76 and '78. We will accept payment for
ticket up to our maximum. See us on Friday at Cedar; then we
are off to the Post Office Cafe' for an after party! We can only
accept cash or a money order as of today!
The BayVue has a capacity to allow for inclimate weather.
If you plan to pay on Saturday, the BayVue will accept cash
at the door for a limited number of people.
We want to see you to celebrate (and we have a few surprises
in store for our Reunion Night - so please respect and tell
somebody that you are coming!
See you all for our 40th Babylon High School Reunion -
Let's Go '77 PANTHERS!
Gerry Izzo / Eric Bernholz/ Denise Adams Bunker / Allison Reeves Greenman / Alecia Boskin / Peter Gorman / Billy Tome / Arlene Reinhold / Timothy Shiebler / Robin Everitt Kenison / Debbie Klein Pieper Cox / Christopher Cox / Alice O'Neill Acevedo / Lisa Nabor Cowan / William (Bill) Keyes / Jane Holgan Weber (thank for your donation!) / erin Eagan Taca / Roni Holzberg Tevere / Edith Czrnics Thompson / Robin Smith Edelston / Mary Mulle /Joanne Covell Chen / John Doerrier / Drew McLoughlin / Craig Schroeder / Chris MacNair / Bruce Taylor / Bobbie Anderson / Gretchen Schmidt Stang / Virginia Slack Vanpelt / Catherine Dixon LaPorte Kaplansky / Nancy Sagal Abrams / Alan Lipkind / Joseph Culbert / Michael Hillsberg / Jeanne Robin / Valerie McPherson / Patricia Baker / Abby Kane / Chris Kain / Debbie Carter / Michael Tufano and others!
Added 7/12/17:
Gary Salatto / John Brabant / Joanne Campisi / Larry Wolf / Joann LaRosa Mahr / Eileen Taylor Bellavia / Karen Hamann Casella / Scott Harrison / Cindy Gentile / Donna Calautti Rinaldo / Jane McMurray Corrado ….the list is not yet complete without you!
Added 7/23/17
Paul Fava / Dave Cange / Gia De'Angelis / John Muller / and the list keeps growing!
NOTE:
This Reunion is by US for US (and a few of our friends!)
Not on the list? contact Allison - get on it!
-------------------
SUNDAY EVENT VENUE CHANGE -
WE ARE GOING TO:
THE OVERLOOK AT CAPTREE BOAT BASIN
AT 12:00 NOON!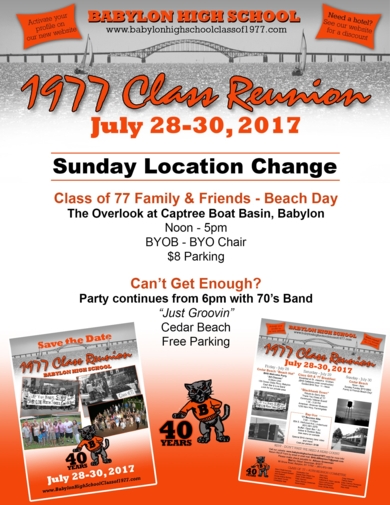 .
DOWNLOAD SUNDAY VENUE CHANGE FLYER
DOWNLOAD EVENT FLYER FOR YOUR CONVENIENCE!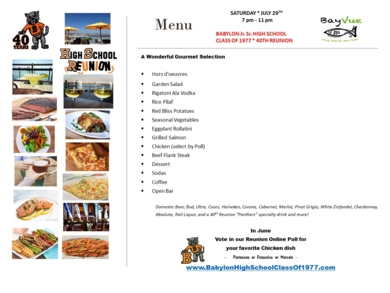 MENU - Long Island delish (click to print)
WELCOME HOME TO BABYLON VILLAGE - CLASS OF '77!
JULY 28-30th: RE-LIVE MEMORIES AND CREATE NEW ONES!
---
Cost Per Person: $130.00
Includes:
Reunion Night Buffet, Open Bar, Venue,
DJ, and other expenses . The committee is fundraising in order
to lower costs and provide complimentary benefits througout
the weekend! Hey! Our Venue has a spot for quiet conversation
and dancing as well as gorgeous sunset view.
It's Long Island FUN & SUN for the weekend! We want to see you!
We share our memories from 1977! Speaking of 1977...
Check out the 1977 History/Video page!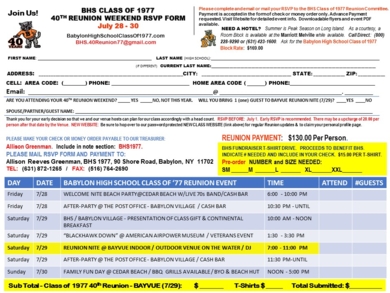 ------------------------------------------------------------------------------------------
Class of '77 GIFT TO BHS
2017 Class of 1977 Community Service Project -
40th Reunion Gift to BHS. Join Our
"Pay It Forward" T-Shirt Campaign!
Proceeds help current students with
Habitat For Humanity & Goody Packages
to Military Troops as part of their own
"Community Service" Project!
THANK YOU TO ALL WHO ADVANCE ORDERED TEE'S!
PICK UP YOUR T-SHIRT AT SAINT JOSEPHS DURING OUR
BREAKFAST - SATURDAY MORNING! DIDN'T GET ONE?
NO WORRIES - WE WILL HAVE A FEW ON HAND THERE &
AND WILL TAKE ORDERS
AT CEDAR BEACH ON FRIDAY NITE!
Our gift presented in 2007 (30th Reunion)is below!
BHS Students enjoy our gift currently located
in the school cafeteria!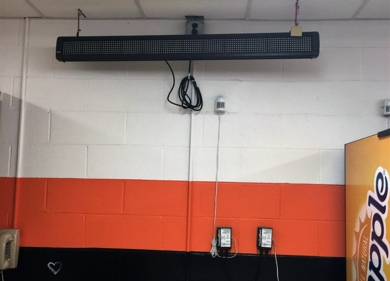 -------------------------------------------------------------------------------------------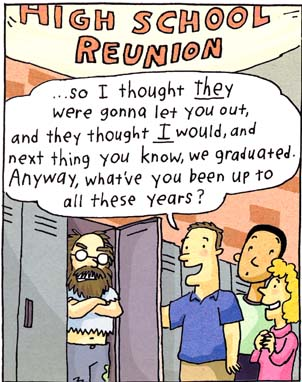 GET THE 411! DOWNLOAD THE DECK BELOW
FOR DETAILED INFO ON THE WEEKEND OF EVENTS!
Click on link for more printable event details!
SATURDAY AFTERNOON EVENT! Open to the Public!
1:30 PM - 3:30 PM
BLACK HAWK DOWN - A TRIBUTE TO VETERANS!
See deck for details!
Added! VA Northport & Suffolk County Veteran Service Agency
with community info about Veteran Services for your loved ones
and community members! Open to the Public.
(Real photo from the photo collection of Gerry Izzo)
BHS '77 Classmate Gerry Izzo talks about his experience
as a pilot on this infamous military mission. You have
seen the movie - hear about his real-life experience!
TO ALL IN OUR CLASS WHO HAVE SERVED IN THE
UNITED STATES ARMED FORCES - WE SALUTE YOU
AND OUR CLASSMATES FAMILY MEMBERS FOR
YOUR SERVICE. THANK YOU.
(Black Hawk Down movie. Music by Minstrel Boy)
RSVP ...RSVP...RSVP
(click on the link to download)
You can obtain a RSVP Form from any
Reunion Committee Member. Return via
Mail or email: BHS.40Reunion77@gmail.com
RSVP by July 1st - so that we can plan properly!
---
Please MAIL payment to our treasurer:
(check or money order accepted)
Allison Reeves Greenman
BHS Class of 1977 Reunion
90 Shore Road, Babylon, N.Y. 11702
(631) 872-1265
---
NOTICE:

High School Pics
WE ARE LOOKING FOR HIGH SCHOOL or PHOTOS
TO INCLUDE IN A MEMORY REEL ON REUNION NITE!
SEND YOUR HIGH RES PICS TO PETER GORMAN
(FIND HIS PROFILE ON THE SITE!)
or EMAIL TO: BHS.40Reunion77@gmail.com
---
PANTHERS! DO YOU NEED A HOTEL?
FOR YOUR CONVENIENCE...A GREAT DISCOUNTED RATE!
---
---
We are delighted to offer as a courtesy, a
discounted group rate

for the Class of '77 -
at the

Marriott Melville Long Island.

A limited
number of

rooms are available, so book your
rooms NOW! Payment due at check in.
The Summer on Long Island is peak
hotel season. The number of rooms at this
great rate are limited.
Melville Marriott Long Island
1350 Walt Whitman Road
Melville
NY
11747
1(800) 224-9290 or 1(631) 423-1600
RESERVATIONS CAN BE MADE by phone or online
Code: "Babylon High School Class of 1977 Reunion" rate
Start date: 7/28/17
End date: 7/30/17
Last day to book: 6/29/17
Marriott hotel(s) offering your special group rate:
Melville

Marriott

Long Island for

169.00 USD

per night
---

DO YOU REMEMBER?
BHS PRESENTS?
STAY TUNED for fun POLLs! In the meantime...Enjoy!
Visit often for fun trivia, EVENT SCHEDULE DETAILS,
Reunion Menu, Polls, and more!
---
Archivist - Peter Gorman - Send pics for our reel!
Website Administrator-Catherine R. Dixon Laporte