In Memory
Stanley Brock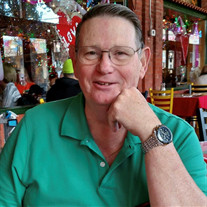 Stanley Preston Brock, 67, of Montgomery, Texas went to celebrate eternity with the Lord on April 29, 2018. On December 4, 1950, Stan was born to Charlie Preston Brock and Olia Lurleen Grimes Brock in Freeport, Texas. He graduated from Brazosport High School in 1969 and went on to earn an Associate's Degree in Electrical Engineering from Texas A&M. In September of 1972, Stan married Sherry Lynn Willingham in Rosehill, Texas. In August of 1977, their first son, Charlie Ray Brock was born and a few years later in June of 1981, their second son, Barrett Allen Brock was born. Stan enjoyed a long career with ExxonMobil which provided his family the opportunity to travel and reside in many different places. They spent 14 years raising the boys in Green River, Wyoming and from there they made an international move to Kuala Lumpur, Malaysia. During their travels they were blessed with the opportunity to make a lot of lifelong friends. In 2001, they finally made their way back to Texas where they resided in Tomball until moving to their dream home in 2009 in Montgomery, Texas. Stan and Sherry are members of the Montgomery United Methodist Church where Stan was faithfully involved in the Church community including the Cooking Ministry.
Stan is survived by his wife Sherry, his son Charlie and daughter in law Meagan, three granddaughters, Hayleigh, Lacie and Kynley of Crosby, Texas, his son Barrett and daughter in law Holly, granddaughter Abigail of Houston, Texas, sister Loretta Kaye Woodward-Wells and brother in law James Wells of Charleston, IL, and many more beloved extended family members.
Stan is proceeded in death by his father, Charlie Preston Brock, his mother, Olia Lurleen Brock and his brother, Charlie Roy Brock, his father and mother in law, Raymond and Dorothy Willingham and his maternal and paternal grandparents.

A Memorial Service will be held in his honor on May 8, 2018 at 11:00 am at Montgomery United Methodist Church (MUMC) with a reception to follow. In lieu of flowers, the family requests that donations be made to the MUMC Cookers or MUMC Nurture Ministry.
Stan was a wonderful husband, father, grandfather and friend. He will be greatly missed by all who knew him. "Life is fragile, handle with care!"