In Memory
Terry Pearson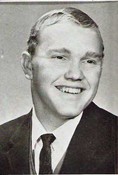 Thank you, Mark Young for this update.
---
Dr. Terry Pearson died Wednesday, Sept. 26, 2007, in Amarillo, Texas. Services will be at 10 a.m. on Monday, Oct. 1, at Greenoaks
Funeral Home in Baton Rouge with David Lough, minister of University Church of Christ in Canyon, Texas, and the Rev. Doug Burleson
of Goodwood Church of Christ, officiating. Visitation at the funeral home from 9 a.m. until service time. Burial will be in Greenoaks
Memorial Park. The family received friends on Friday, Sept. 28, from 6 p.m. to 8 p.m. at Brooks Chapel in Canyon. Terry Pearson,
husband, father, son, brother, uncle, professor and friend, went to be with the Lord Wednesday, Sept. 26, 2007. Dr. Terry Pearson
was born on Aug. 27, 1951, in Freeport, Texas, to Stanley and Joan Gilley Pearson. He graduated from Brazosport High School in
Freeport in 1969. He then graduated from LSU where he received his bachelor's and master's degrees and did his doctoral work.
He received his Ph.D. from Waldon University. He taught at Harding University in Searcy, Ark., Southeastern Louisiana University,
and most recently at West Texas A&M University. He married Glenda Clark of Baton Rouge on Aug. 30, 1980. He and his family own
and operate Pearson Technology, a leader in development of alternative fuels. He was a member of University Church of Christ in
Canyon and a former member of Goodwood Church of Christ in Baton Rouge. He was passionately devoted to his students and their
learning. Terry loved his family and wanted to be at church every time the doors opened. His love for outdoors gave Terry many hours
of pleasure hunting and dirt-bike riding. He is survived by his wife, Glenda Pearson of the home; two sons, Clay Pearson of
Baton Rouge and Cody Pearson of the home; his parents, Stan and Joan Pearson of Baton Rouge; a brother, Mark Pearson, M.D.,
and his wife, Cathy of York, N.E.; two sisters, Julie Vantine and her husband Bruce of Louisburg, Kan., and Elizabeth Krings
and her husband Jeff of Winston-Salem, N.C.; and numerous nieces and nephews. In lieu of flowers, the family suggests memorials
be made to the American Diabetes Association, P.O. Box 50433, Amarillo, TX 79159, or High Plains Children's Home, P.O. Box 7448,
Amarillo, TX 79114.
Published in TheAdvocate.com from Sept. 29 to Sept. 30, 2007y