Brazosport High School
Freeport, Texas Class Of 1969
Larry Thomas
Larry always was a "class" individual.... knowing him was a real pleasure.... I can't even think of one person that didn't like him..... except maybe the defensive players on the opposing teams...LOL.....
I related this story on Facebook, but it bears repeating.......
I was going to Las Vegas in the late 70s...... I called up Larry and told him that I was coming to Vegas and would enjoy visiting with him...... I called him when I arrived and he came to my hotel and picked me up...... he took me all over Vegas and we had a great time...... then at the end of the evening, he took me to his home and we visited while his BEAUTIFUL wife made dinner.... I had dinner with him and his family then visited a little while longer, then he drove me back to my hotel...... He and I had a great time.... He told me when he let me off at the hotel that he was really glad I called and enjoyed the visit..... He was a great guy and will be dearly missed.
Never met a nicer guy. Larry "Big Red" Thomas was a true gentleman and a friend. What a terrific athlete and a quality student. I remember vividly the briefcase he always carried to class. I am very saddened to hear about his passing. Larry was always high on my list of quality individuals. This world lost a good man. God has a good one there!!!
John Levee
Prostate? What? By The Way about 8 of us met at the first Saturday monthlything at Luby's. One person from DC was there. Virginia Smock B? Steve Stein, Tony Barnard, John Wesley Adcock III, Charles/Kit L. murray III, Mary Pratt B. Moi and TB's other half. Then Steve Landers came as some we're leaving. Pics on FB. I'll try putting them here momentarily.
On the bus, on the way back from a track meet a fellow track mate, some called "Silver" made a comment un-nice about me. Larry spoke up to defend me. I sat dumbfounded until he said to WM, "He's okay/alright!" It's been at least since '69 that LT saved us all from a problem that could have happened on that trip. Seems that the last timec I talked to Willie, he asked me to look after his boy, KM. He was going up again for some 2nd story stuff, his words. 'Twas about the late '80s that I saw him walking by our pool on Lazy Lane that day. No one except my lil bro n pop n Kit ever heard this story. It was irelevant then bec of my upbringing hoping the story would not be necessary to be told then. I still have hopes our class has been good for the world! Also taught LT's sis to swim. She was succint about his life in LV, heehee. Can't remember any particulars. Manaña old guys, eh?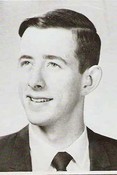 What a nice and humble individual. I knew Larry as a fellow exporter athlete he was a beast at running back so sorry to hear of his passing.