In Memory
Jimmy Wright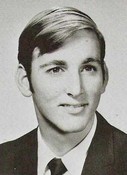 James Robert Wright, Sr. aka Lightening, 67, of Dickinson, TX, passed away January 11, 2019 in Houston. James was born June 15, 1951 to Elsie Louise and Robert Bobbie Wright in Freeport, Texas. James graduated from Brazosport High School where he played baseball for the Exporters. He attended San Jac Community College prior to his training with the Texas Department of Public Safety. He retired from the Texas Department of Public Safety after 39 years of service to his community. James was a loyal member of the Shrine of the True Cross Catholic Church as well as the Texas DPSOA and was a former Board Member for Dickinson ISD and coached for the Dickinson Little League where he served on its board.
James was preceded in death by his father. James leaves behind to cherish his memory his mother; his beloved wife of 44 years Carol Brenk Wright; sons James Wright, Jr., and Patrick John Wright and wife Mary Beth; daughter-in-law Olivia Krupala Wright; sisters Natalie Wright and Carolyn Cannon and husband Clyde; brother Herbert Wright; grandchildren Colton Wright, Mallory Wright, Landon Wright, and Caden Wright; and numerous nieces, nephews and friends.
In his honor a visitation will be held 5:00 – 7:00 pm, Monday, January 14, 2019, rosary at 7:00 pm, with mass being celebrated 1:00 pm, Tuesday, January 15, 2019, both at Shrine of the True Cross, Catholic Church, Dickinson, Texas. Interment will follow at Mt. Olivia Catholic Cemetery Dickinson, Texas.