St Victor School

Class Of 1978
Reunion Updates
We are currently working on dates for the reunion. Our target is more towards the middle of Summer 2008. We will keep you posted so check back for updates.
Meeting #1 (Can't remember the date, we drank too much)
Lead by Joe Casner and Tom Blahunka this monster was set in motion along with Kevin Fanta and Rilio.
Meeting #2 - March 28, 2008

After Meeting #2 when everyone's head cleared from the numerous libations we discussed the following
1. We are putting 2 dates out there to start and see what the feedback is:
Saturday, August 2, 2008 or Saturday August 9, 2008
*** Please give some feedback on the discussion board.
2. We have a short list of places to hold the event and will let everyone know when we get more details.
Here is a picture of Meeting #2 attendees...
Meeting # 3 - April 17, 2008
We had another fun meeting which some work got done between beers. 12 people showed up (see picture below) and our committee is ever growing. The ever growing committee decided upon a date and location:
Date: Saturday August 16, 2008
Location: American Legion in Calumet City
Cost: $55.00 per person (including dinner, 4 1/2 hour open bar and DJ). The thought of a 4 1/2 open bar with this group should frighten the American Legion.
Time: We are working on the times...however we plan to attend 5:00 mass at St. Victor's before the reunion.
Committee Chairs were appointed (but feel free to contact them if you want to help):
Treasurers / Location Managers: Joe Casner and Dave Barrett
Decorations: Kathy Sitkowski and Shari Tornabene (I am using maiden names, sorry)
Favors: Judy Dikun and Jill Horvath (maiden names again)
Golf: Tom Blahunka
We will be sending out Evites and some snail mail invitations....
Joe Casner will send out the next meeting time soon....until then please let us know if you have questions, suggestions or can find our classmates....
Here is the group from Meeting #3 (by the way, I don't have a second head...that illusion is the one and only Dan Balog)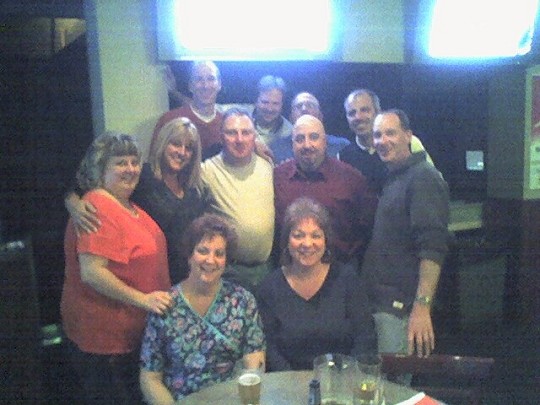 Meeting #4 - May 28, 2008
Meeting #4 started out all business and then quickly slid into a laugh and drink fest for the next 6 hours over some really painful Karoeke!

Attendees: Judy Kauchak, Jill Haas, Joe Casner, Tom Blahunka, and Rilio
We discussed details about the DJ, and the Evites that will go out shortly. Once again, we tried to figure out how to get a hold of more classmates.
- Joe has secured the DJ
- Dave & Joe have set up a checking account for the reunion
- Judy and Jill are working hard on favors for each classmate
- Rilio is putting together and Evite to start sending around
Some notable quotes from the evening that need to be memorialized...
"Happy Wife...Happy Life" ~ Bob Ostrom
(In homage to the hot UPS delivery men) "I got your Brown" ~ Jill Haas & "What does Brown do for you?" ~ Judy Kauchak"
"Less is more" ~ Joe Casner
"Driving Miss Judy" ~ Rilio
If you have any notable quotes post them on the Message Forum
Until next time....