Chattanooga City High School - Alumni Assoc.

Classes of 1940 - 2015
In Memory
Bill Trewhitt - Class Of 1968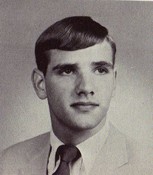 William Trewhitt
William Bonner Trewhitt, 70, of Lookout Mountain, passed away Friday, April 17, 2020, surrounded by his family. He grew up on The Mountain, where he attended Lookout Mountain School and enjoyed playing youth baseball. It was at Northside Junior High School where he met and fell in love with his beautiful wife of 45 years, Jeanne.
He attended Cleveland State and The University of Tennessee. After college, he worked in production at WDEF and sales at Specialty Distributing. His lifelong career was managing the family business, Shearer Amusement Company, with his wife and mother-in-law, Mildred Bunch, from 1976 until he retired in 2007. He was Chattanooga's jukebox and pinball wizard and could fix just about any coin-operated amusement machine. He was a member of The Amusement and Music Operators of America and served a term on the board of The Amusement and Music Operators of Tennessee.
Bill was a passionate, lifelong Tennessee Vols and Lady Vols fan who loved tailgating and watching football games at Neyland Stadium with his wife, whom he affectionately nicknamed, Rocky Top Jeanne. He and Jeanne raised money through the VASF and Tennessee Fund for UT sports scholarships. He was a member of First Centenary United Methodist Church and an advocate for The Mustard Tree Ministry, an outreach group helping the homeless and those in need. He enjoyed travels to The Holy Land, Europe, Gatlinburg, Asheville, Hilton Head Island, and many special family vacations to Panama City Beach. Once a month, he loved going to the Bunch cousins dinner with Jeanne. Bill was a devoted family man who would do anything for his family whom he adored. He always enjoyed grilling out at the boathouse or by the pool, taking the kids on tractor rides, tinkering in his shop, and being outside in the yard working or watching his hummingbirds.
He was preceded in death by his parents, Gordon and Margaret Trewhitt, and his beloved yorkie, Bouncer.
He is survived by his wife, Jeanne Trewhitt; his four children, Bill Trewhitt Jr., Shannon McAbee (Michael), Elizabeth Schultz (Wasley), and Christopher Trewhitt; five grandchildren, Taylor, Caden, and Milla McAbee, Zachary Trewhitt, and Colton Trewhitt; cousin Ann Johnson; nieces Michelle Nelson, Alissa Pope, and their mother Phyllis Vogt; dear family friend Gracie Lounds and family; brother-in-law Joseph Bunch (Deborah); niece Christina Davis; and many grandfurbabies.
A special thanks to Erlanger, The Lifestyle Center, Amedisys Home Health, and Hearth Hospice.
A celebration of life will be announced at a later date.
In lieu of flowers, the family asks donations be made in his memory to The Mustard Tree Ministry.