Nostalgia PHOTOS
Englewood Jr. HIgh - 1955
Franklin School in Englewood was connected by a covered walkway (aptly named "pneumonia alley") to Englewood Junior High School. We didn't have an auditorium so we always used the junior high auditorium, where this picture was taken. Some faces look familiar to me but I don't have a clue as to who anyone is. ~ Judy Tunick Greenspan
From Judy Tunick Greenspan. 1953-1954 basketball team, Englewood Junior High School, 8th grade for us. 2 of our class members were in the pictures. Recognize anyone?
1955 Jr. High Class Picture W-1
Top L to Bottom R: (1) Mary-Louise Knapp, Linda Eisenberg (2) Rich Fisher looking "Rocky" (3) Jerry Phelan (5) Barb Rahner, Dee Auriemma and Roseanne Heidt (6) Mary Louise Knapp, Barb Rahner, Dee Auriemma - #'s 1, 3 and 5 are from Class Trip 1955.
Top L to Bottom R: (1) Roseanne Heidt (2)Mary-Louise Knapp (3) Connie Merlino (3) Bill Arp (Bev Kiley behind him) (5 ) Knapp twins & ?
Bicycle Boys - Tom, Joe, Herb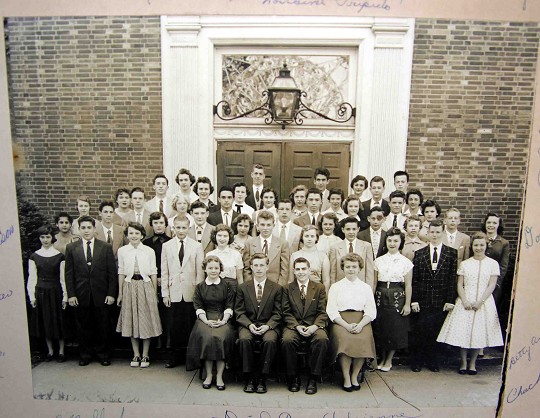 Oradell Gang - Headed for DMHS - 1955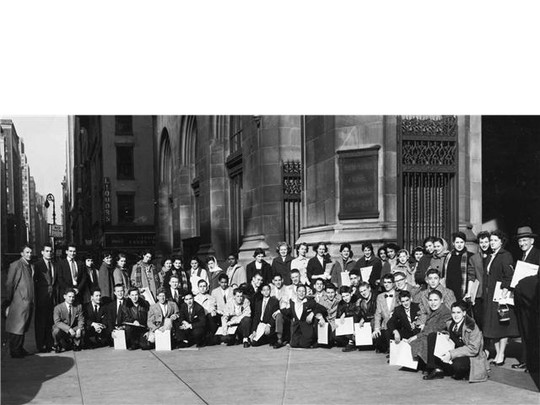 LtoR: Bob Sposa, Margo Larson, Alan Hembrough, Donna Escala, Bruce Hoverman, Carolyn Moon, Linda Reder, Ray Dohm, Anne Mason, Anne's date, Don Ohenigian, Betsy George.
Taken in New York City after the Senior Prom
Louise, Penny and Betty at Graduation, June 16, 1955
Penny, Barbara, Louise and Judy, Senior Council 1958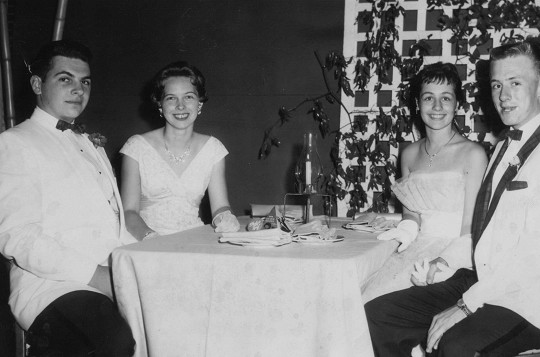 This is a terrific picture of Jimmy Sprinz taken at the Starlight Roof on the night of our Senior Prom. His date is the lovely Carole Snoad. After the show, Jimmy drove Carole, Rosary and me through Greenwich Village in search of Beatniks. I think we found two.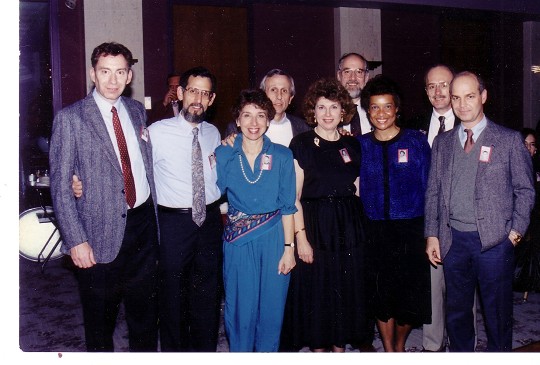 The Roosevelt School Gang, November 1988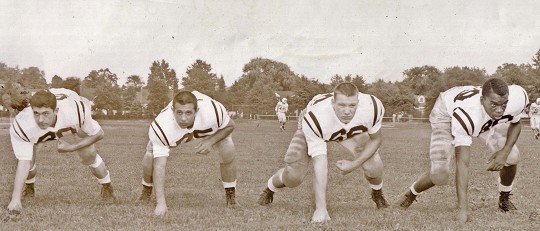 DMHS Football Lineup: Joe Culbert, Dan Brovero, Len Thompson, Charlie Lee
RJHS Basketball Team c. 1955 - guess the players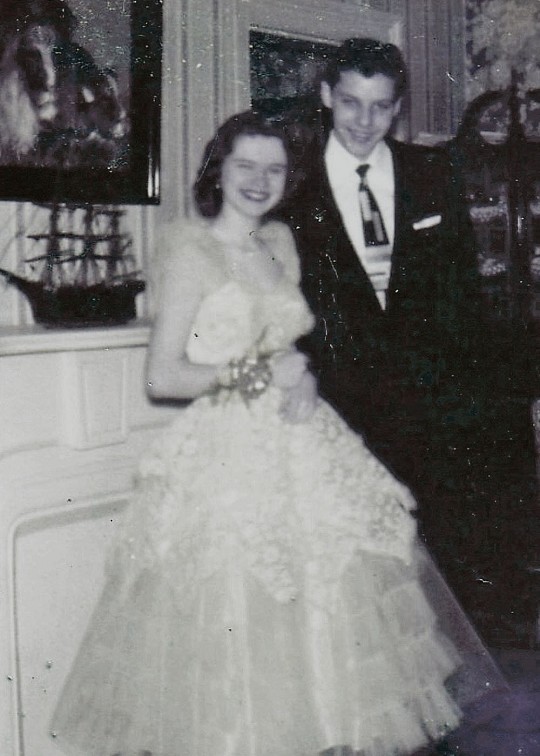 Dream Couple - Kingkaid & Fisher
Mr K et al
Name the players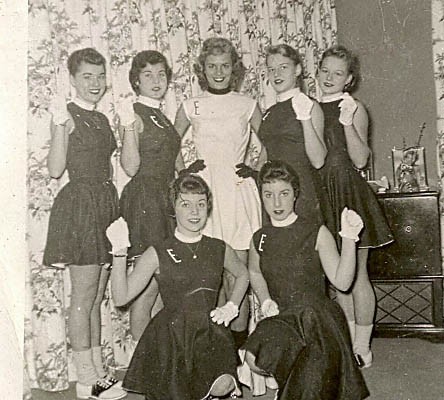 Cheers - Our sophomore year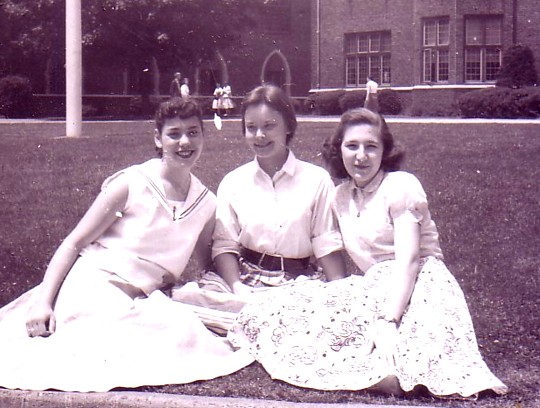 Enjoying our beautiful campus - Pat, Bev, Irene
PJ Party
Got a caption?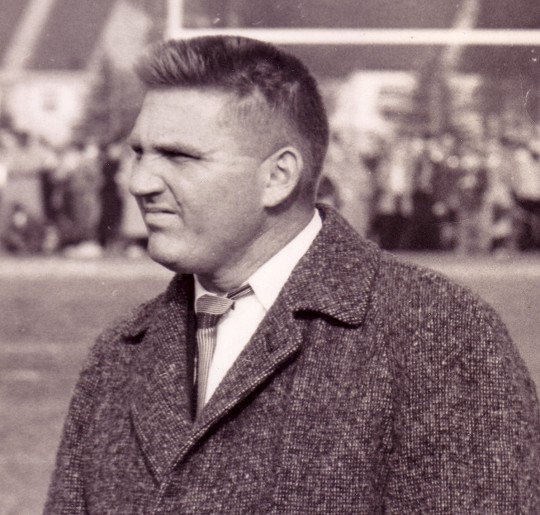 We are the Ridgefield Girls....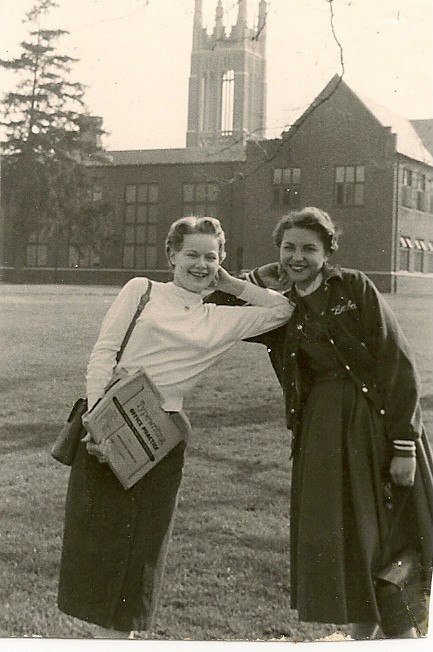 Rahner & Knapp on campus - with our beautiful tower in background
Sox-y ladies get-together