VETERANS HONOR
BOB PATTON, USAF 1961-1969. Service in UN Organization, Congo, Chateauroux, France, Tripoli, Libya, Panama City, FL, NORAD at Colorado Springs, CO, Tai Chung, Taiwan, Okinawa, Vietnam, and Tucson, AZ. AF Commendation Medal, Presidential Unit Citation with 2 Oak Leaf Clusters, Strategic Air Command Unit Citation with 3 Oak Leaf Clusters.
BOB CRONK, USAF 1961-1965. AIC assigned to 410 Bombardment Wing -52 security and weapons management KI, Sawyer AFB, Marquette, MI; Interpreter assigned to base police, Ramstein AFB, Germany. Cuban missile crises deployment and candidate for Air Force One. Sharpshooter. Unit citations and clusters.
JEAN PIERRE DOWLING, MARINE CORPS, 1964-1966. Died while missing, 01/29/66. Quang Ngai, South Vietnam. Ground casualty, small arms fire. Body recovered.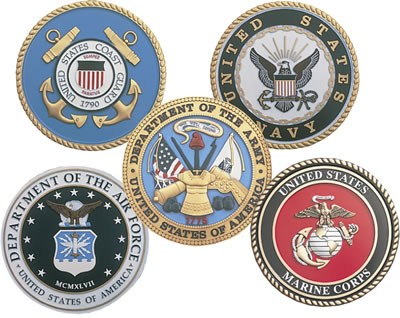 LEONARD "CHIP" MALDONADO. US ARMY 1968-1990. Distinguished career. Vietnam & Cambodia service 1969-1972. 1975-1990 Service in Colombia, Ft. Bragg, NC, Panamá, Washington, DC, Costa Rica, Germany, Ft. Monmouth, NJ. Legion of Merit, Meritorious Service Medal, Bronze Star, ARCOM. Retired as a Lt. Col.
WOODY COYNE. USAF 1966-1972. 2 tours Thailand, 1 combat. Bronze Star, Air Medal with 3 oakleaf clusters, AF Commendation Medal.
DAVID MCELHENEY. US NAVY 1965-1971. Storekeeper 2nd Class. USS Grant County LST-1174. Comphiblant Staff Supply Office. Navy Reserves Little Creek, Virginia. US Army Reserves 1982-1989. Staff Sgt. 3rd Battalion 80th Division, Ft. Story, VA.
JERRY DEVALL. US Army 1967-1972. Service in S.Korea, Germany, several stateside locations. Attained rank of SP6. Fire Control Mechanic for the Nike Hercules missile system.

MORGAN G. ROSEBOROUGH, JR. US ARMY 1966-1992. Distinguished career. Service in S. Korea, Ft. Leonard Wood, MO, Ft. Wolters, TX, Hunter AAF, GA, Vietnam (Combat), Ft. Knox, KY, Graduate School, Duke University, West Point, NY, Ft. Lewis, WA, Germany, Washington, DC, West Point, NY. Attained skill qualifications as a Rotary Wing Aviator, Ranger, Expert Infantryman, Parachute. Awarded the Legion of Merit, Meritorious Service Medal, Bronze Star w/V, Purple Heart, Air Medal, Army Commendation Medal, Army Achievement Medal . Retired as a Col.
HUBERT McMINN, JR, ARMY, 1967-RETIREMENT. RETIRED LT. COL. Regular Army Armor from Reserve Artillery 1970. Graduate OCS-Artillery 1967 (Ft. Sill OK), Rotary Wing qualified 1968 (Ft. Wolters TX & Hunter AAF GA), COBRA qualified 1970 (Hunter AAF GA), University of Texas Business School 1974.
(Austin TX) Commands: Warrant Officers Company USAPHSC 1970 (Ft. Wolters TX), A trp. 3/7 Cav. 3rd Inf. Div. & A Co. 3/64 TK. BN. 3rd Inf. Div. (Schweinfurt, RWG) Combat: Republic of Viet Nam: 1968-1969 D TP 3/5 Cav. 9th Inf. Div., F TP 4th Cav. 24 Inf. [change to 1st Aviation Brigade] Combat Awards: DFC's plus 2 OLCs of DFC w/2, Bronze Star w/V an OLC, Purple Heart with 2 OLC, Air Medals, Army Commendation Medal w/V, Vietnam Gallantry Cross (Unit Citation) and Army Presidential Unit Citation. Duty Stations: Ft. Knox, Ft. Sill, Ft. Wolters-Hunter AAF, Viet Nam, Ft. Wolters, Viet Nam, Ft. Knox, Austin TX, Schweinfurt Germany , Ft. Bliss, Ft Hamilton.