Frankfort High School
Class of 1961
Please update your newer addresses and phone numbers if they have changed in the past couple years. Send to dhackerd@gmail.com
60th Class Reunion
July 31, 2021, 51 West, Frankfort, Indiana
The 60th classs reunion was on July 31, 2021, during the Hot Dog Festival in downtown Frankfort, IN at 51 West during the afternoon. A lunch buffet was served and the afternoon was spent visiting. Booths with food and crafts were around the square. An opportunity to visit Old Stoney Clinton County Museum was at 4 p.m. with a program by Nancy Hart and exploring all the different areas. Refreshments were also served. You can visit their website at www.cchsm-indiana.com . For those who could come, Mark and Julia Werner entertained at their home during the evening hours.
34 classmates attended
Bloomer, Susan (Lukasik); Blubaugh, Carolyn (Ray); Branstetter, Shelby (Winters) and Mary Wiebers (sister); Coomer, Betty (Rader); Davis, Joan (Sleeth) and Dan; Dick, Donna (Davis); Eberle, Jeff; Geiger, Jerilyn (Ostler) and Junior; Griffith, Carole (Straesser); Hackerd, Dinah (Bell); Hale, Paul and Sandy; Hewett, Alberta (Winski); Hibbard, Ruth (Grafton); Jarrell, Carolyn (Suits); Kipp, Mary George (Hammersley) and John; Imel, Susan; Koehl, Howard and Nancy; Kowalski, Karren (Mundell); Lawson, Marge (Taylor); Linn, Juanita (Watson) and Gary; Lipp, Ellis and (Jan); Littman, Rita (Burd) and Burl; Mang, Gerry and Jan Bailey; Martin, Terry; McClughen, Ron; McElwee, Art and Patsy; Metzger, Jackie (Mink) and Joe; Mohler, Karen (Small); Ogden, Joyce (Rogers); Pohl, Carla (Pickering); Shurr, Bob and Jane; Smith, Mickie (Hodson) and Dick Marshall; Smith, Randy; Werner, Mark and Julia (Smith)
See photo in Photo Gallery
Third Annual Frankfort Hot Dogs' Alumni Hall of Fame 2020
Steve R. Adams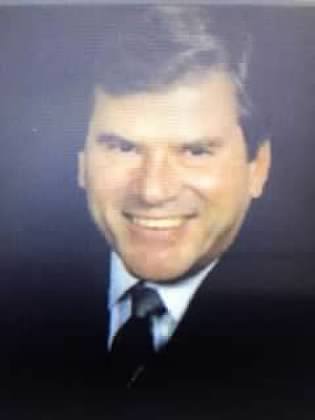 Steve graduated with top academic honors from Frankfort High School. Steve received his Bachelor of Arts and Master's Degrees from Indiana University with an undergraduate degree in (Aristotelian) Philosophy and a Master's degree in English. Steve taught in Lebanon Junior High School receiving an "Outstanding Young Educator of the Year" award from the Jaycees. Steve then began a long career as a pianist/composer of sacred music that saw his songs published in hymnals of a dozen major denominations and broadcast around the world by major Christian television networks in America, Canada, Africa, and Europe, and was featured on Billy Graham's "Hour of Decision" radio program. Steve's music was recorded by scores of major artists from Doug Oldham, Bill Gaither Trio, Mark Lowery, the Blackwood Brothers Quartet, the Speer Family, the Imperials, the Collingsworth family, and the New York City's Brooklyn Tabernacle Choir. Steve has played before President Carter and President Reagan at the White House, in the Capitol, and Wolf Trap (the Outdoor Kennedy Center). His many choral musicals have taken him to more than 2,000 concert venues in all of America's states, throughout Canada, and the Caribbean in which he has appeared with an equal number of choirs in live presentations of his published works. He is a Dove award nominee whose songs were recently featured by the Nashville Pops Orchestra at Music City's famed Ryman Auditorium.
First Annual Frankfort Hot Dogs' Alumni Hall of Fame 2018
The class of 1961 is honored to have two inductees to this first Hall of Fame ceremony among 13 other distinguished honorees.
Karren Mundell Kowalski
Graduated from Indiana University with a Bachelor's Degree in Nursing. She has Master's Degree and a PhD from the University of Colorado. She was the first woman from Indiana to serve in the U.S. Army Nurse Corps in Vietnam. She is now the President & CEO at the Colorado Center for Nursing Excellence and has served as Project Director for three HRSA Grants on Leadership Development. In 2010 she received the Florence Nightingale Award for Nursing Excellence. She has also been selected as one of the Ten Outstanding Young Women of America and is a charter member of the Colorado Nurses Association Hall of Fame. She was elected to the American Academy of Nursing in 1981 and as a fellow of the Academy of Nurse Educators in 2015. In 2014 she was selected as a TOP 100 Alumni Legacy Leader in the first 100 years of the I.U. School of Nursing.
Douglas F. Reid
Graduated from Ball State University with a Bachelor's Degree in Physical Education and a minor in Business. Elected to the Ball State Hall of Fame playing on the 965 undefeated football team. He was a three-sport athlete at Frankfort and was selected All State in Football in 1961 as well as Indiana All Star in basketball. He ranks fourth on the all-time scoring list in basketball with 1,449 career points. He's an All American at Louisberg Junior College in North Carolina.
More pictures may be seen of the events in the photo gallery.
You may congratulate Karren and Doug on this website.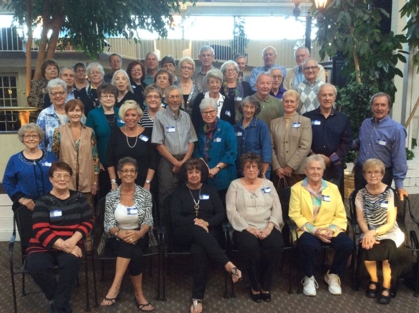 ..Click on picture to enlarge. 55th Class Reunion
"All hail to dear old Frankfort, to the blue and the white that floats upon the breeze.
All hail to dear old Frankfort, and all her happy memories.
Three cheers to dear old Frankfort, and may her glory never, never die. Long may we love her, our Alma Mater, Frankfort High"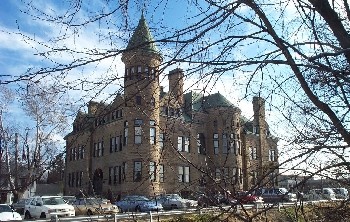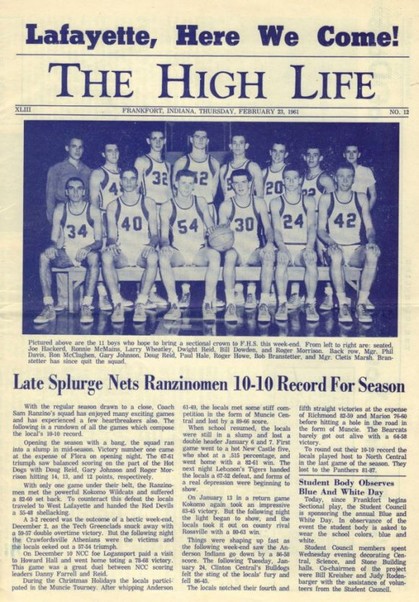 Mike Chittick
From The High Life, April 29, 1960



Roger Howe, Ron Kellams, Jack Lowden, Dave Newbold, Larry Hill




contributed by Tom Bartley



Remember the Slicks Auto Club ?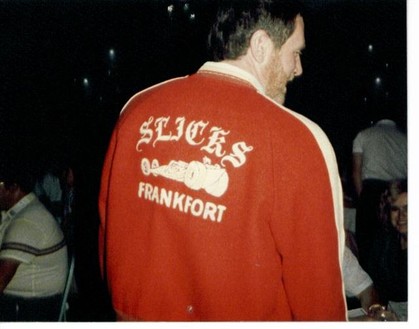 1986, Tom Sheets wearing Ron Hibbard's Slicks jacket.
Smitty's Garage truck, notice the Slick's Auto Club on the back.
ANNOUNCEMENTS

Visit other FHS class websites by clicking on a school year.

1961
Dwight D. Eisenhower: Farewell Address, January 17, 1961.
John F. Kennedy: Inaugural Address delivered January 20, 1961.
Population: Total Growth Rate Increase
World: 3,080,063,747 1.80 56,018,983
U.S.: 183,691,000 1.67 3,020,000
Barbie doll introduced in Europe
First commercially available integrated circuits
Daniel Boorstin publishes The Image (New York: Vintage, 1961), an incisive critique of the media and "pseudo events"
Adolf Eichmann on Trial for Role in Holocaust
Bay of Pigs Invasion
Berlin Wall Built
Peace Corps Founded
Soviets Launch First Man in Space
NASA launches Alan Shepard in Freedom 7, first American human suborbital flight
Congress of Racial Equality (CORE) organizes Freedom Rides into the South to test new Interstate Commerce Commission regulations and court orders barring segregation in interstate transportation. Riders are beaten by mobs in several places, including Birmingham and Montgomery, Ala.
Movies: The Hustler, 101 Dalmatians, Breakfast at Tiffany's, West Side Story, The Misfits, The Absent Minded Professor, Splendor in the Grass
Songs: Moon River, Where the Boys Are, Will You Love Me Tomorrow, Blue Moon, The Lion Sleeps Tonight
TV Shows: Bullwinkle, Walt Disney's Wonderful World of Color, Hazel, Dick Van Dyke Show, Top Cat
Books: Stranger in a Strange Land, Robert Heinlein; Catch-22, Joseph Heller; The Carpetbaggers, Harold Robbins; The Making of the President: 1960, Theodore White; The Agony and the Ecstasy,
Irving Stone; The Winter of Our Discontent, John Steinbeck
Bob Dylan arrives at New York's Greenwich Village
British bluesman Alexis Korner forms the Blues Incorporated, with a rotating cast that will include Charlie Watts, John Surman, John McLaughlin, Mick Jagger, Brian Jones, Keith Richard, Eric Burdon, Jack Bruce, Ginger Baker, etc.
The Tokens' The Lion Sleeps Tonight uses operatic singing, Neapolitan choir, yodel, proto-electronics
The Beach Boys' release Surfin in December and launch surf-music
PRIVACY NOTICE:

All contact information (address, phone number, e-mail address) entered into this website will be kept confidential. It will not be shared or distributed. Your contact information is private: your street address, e-mail address, and phone number cannot be seen by the classmates unless you grant permission on your Profile. When someone clicks on your name, the only contact information they will see is your city and state and whatever information about yourself you choose to put on your Profile. Unless you explicitly grant your permission, your email address is not visible, although an email can be sent to you using the contact box at the bottom of your Profile page. Note, however, if you send a message to someone through their Profile page, the Classmate will see your email address so that they can respond.
Email notifications from this web site
: For those of you with spam blocking or email filtering capabilities, please add noreply@classcreator.net to your email account as a safe sender in order to receive email communication from this web site. This will keep us from getting "bounce back" emails from several of you and don't want you to miss receiving emails from other classmates