Ben L Smith

High School




Class Of 1968
ANNOUNCEMENTS
•
Obituary
Linda Elkins Stone, age 73, went to be with her parents, Ruth and Howard, and her Lord and Savior on September 29. In lieu of a funeral, Linda requested that donations be sent to Hospice of the Piedmont 1801 Westchester Dr. High Point, NC 27262, and that all her friends go out and have a drink in her memory!

•

Ben L. Smith Class of 1968

55th Class Reunion

I NEED SOME HELP, PLEASE!

In putting together the 55th Reunion we are running into many challenges /obstacles that were unforeseen. At this late date, we have found that it is difficult to book a venue, a caterer plus all of the other things that need to be brought together for a successful event. In addition, due to the late date many of the bookings require 50% down and are non-refundable. I am sure all of you would agree that the last thing we want to do is spend money and then lose it due to lack of interest.

Therefore, we are now considering different dates, possibly moving forward to the first quarter of 2024 which gives us ample time to secure a venue and a caterer.

In order to move any of this forward and select the proper venue, it is imperative that I have a good count of the classmates who are interested in a 55th Year Reunion and would plan to attend the event. Please contact me ASAP if you feel we should move forward with the planning phase and if so, how many would attend with you. Plus, there are classmates who do not follow the forum and / or we have no email address or street address. Please reach out to other classmates who may fall into this classification.

So far I have heard from 11 classmates.

Please try and respond by August 7.

I have set up a new email address specifically for the reunion. This is a change from the address originally posted. I can be reached at the following email address: BLSClassof1968@gmail.com

Bobby Wood

•

We had a delightful lunch at Stamey's Barbeque on Monday, August 2, 2021 to catch up with classmates. In attendance were Bud Parrish, Debbie Ingold Parrish, Wayne Alley, Phyllis Tew Alley, John Kelly and his wife, Cathy, Ron Whittle, Bill Baldwin, Patty Baysinger Wagner, Jerry Jones, Bobby Wood, Ken Melton, Kerry Trent and Rick Mooney.

•

Photographs from our 50th reunion have been posted in the "50th Reunion" page located on the left side of this page.
Welcome to the Ben L Smith High Class Of 1968 web site. We began our life's journey after high school over forty years ago. This site can be used to continue communicating with classmates you have stayed in contact with over the years - and, it's a great way to find long lost friends who have just slipped through the cracks of time and have been impossible to locate. Please participate by completing your profile and ENJOY THE SITE!
Please tell other classmates about this site and encourage them to complete their profiles.
The Bossy Ladies and Bud met at PJ Chang's on Saturday, November 11, 2017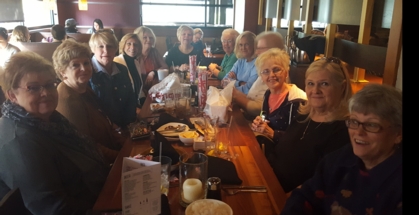 The Bossy Ladies Society met at P.F. Chang's on Saturday, October 27, 2012. A great time was had by all! For an inside view of the event, click on the "Bossy Ladies 10/27/12" link on the upper left.
BEACH MUSIC IN THE PARK - May 19, 2011

The second annual Decade Party was held at Thirsty's 2 on Saturday, November 27, 2010. There were about 100 Smith alumni in attendance representing classes 1964-1970 plus others from Grimsley, Page, Northwest Guilford and Ragsdale. We enjoyed Original "Boar & Castle Burgers", Buttered Steak and French Fries!
Glenwood and Friends Gathering
A number of our classmates, and other Smith alumni attended the Glenwood and Friends Gathering at Thirsty's 2 on July 24. If you lived in Glenwood, Hunter Hills, Southmont, Hillsdale Park, Rolling Roads or Ardmore between 1950-1970, you probably knew someone who attended. To view pictures, go to www.glenwoodandfriendsgathering.shutterfly.com
Our first ever class family picnic was held on Sunday, June 27 at High Point City Lake. We had several generations represented from some of our classmates. In spite of a very hot day, we had a great time!!! Thank you Phyllis and Rita for making this day a reality. Cecelia Cook Gannon and husband, David - cutos for your hard work getting us fed! Pictures can be viewed in the link to the left "BLS Family Picnic."
Join our classmates on the "Message Forum."
There's lots of chatter and a few facts. Be sure to roll up your pants legs and watch where you step!
UPCOMING BIRTHDAYS