Ben L Smith

High School




Class Of 1968
ANNOUNCEMENTS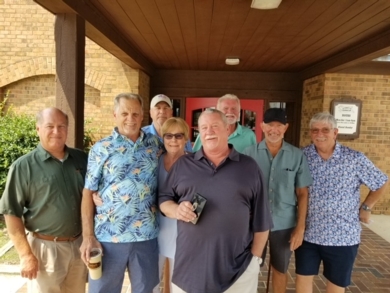 We had a delightful lunch at Stamey's Barbeque on Monday, August 2, 2021 to catch up with classmates. In attendance were Bud Parrish, Debbie Ingold Parrish, Wayne Alley, Phyllis Tew Alley, John Kelly and his wife, Cathy, Ron Whittle, Bill Baldwin, Patty Baysinger Wagner, Jerry Jones, Bobby Wood, Ken Melton, Kerry Trent and Rick Mooney.
Obituary - David Allred's brother
Curtis Glenn Allred, 79, of Greensboro, died on Monday, October 4th, 2021, at Moses Cone Memorial Hospital.
Born on April 30, 1942, Curtis was the son of Maggie Ruth and Glenn Charles Allred. He was one of four children and the oldest son. He attended Sumner High School where he met the love of his life, Joyce Faye Allred. Curtis and Faye were married for 61 years and spent 20 of those years working side by side at Curtis Automotive Service. Curtis was a self-taught Master Mechanic and was known for being an honest and generous man. He was President of the Independent Garage Owners Association and served on the Board upon the opening of the Guilford Technical Community College Percy H. Sears Applied Technologies Center. After retiring in 2004, he spent his days loving his family and friends, helping his neighbors, and rescuing cats.
Curtis is survived by his family who admired and adored him, his wife Faye Allred, his daughters, Sherri McCluskey and Michelle Goins and their husbands Garry and Frank, respectively; grandchildren, Brooks McCluskey (Sammie Jo), Adam McCluskey (Olivia), Arthur Goins (Emma) and Maggie Goins; great grandchildren, Elizabeth, Camden, Ruthie, Caroline and Avery; sister, Sylvia Payne (Eugene) and brother David Allred (Diane). Besides his parents, he was predeceased by his sister, Jane Dixon.
His family warmly invites you to join them on Sunday, October 24th at 2 p.m. at Centre Friends Meeting for a Memorial Service to honor his life. A reception and visitation will follow.
In his final days, Curtis expressed his love for his family, recognized the gift of good friends and gave thanks for a good life. May we all honor him by carrying on his gift of actively showing love to others. In lieu of flowers, you are welcome to send a donation to the Humane Society of the Piedmont at https://www.hspiedmont.org/
To send flowers to the family or plant a tree in memory of Curtis Glenn Allred, please visit our floral store.
---
Services
MEMORIAL SERVICE
Sunday
October 24, 2021
2:00 PM
Centre Friends Meeting Church
325 NC Hwy 62 E.
Greensboro, NC 27406
Photographs from our 50th reunion have been posted in the "50th Reunion" page located on the left side of this page.
Welcome to the Ben L Smith High Class Of 1968 web site. We began our life's journey after high school over forty years ago. This site can be used to continue communicating with classmates you have stayed in contact with over the years - and, it's a great way to find long lost friends who have just slipped through the cracks of time and have been impossible to locate. Please participate by completing your profile and ENJOY THE SITE!
Please tell other classmates about this site and encourage them to complete their profiles.
The Bossy Ladies and Bud met at PJ Chang's on Saturday, November 11, 2017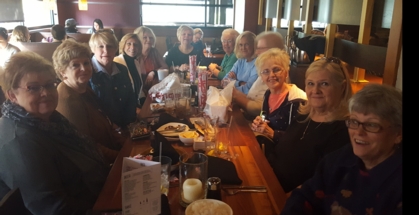 The Bossy Ladies Society met at P.F. Chang's on Saturday, October 27, 2012. A great time was had by all! For an inside view of the event, click on the "Bossy Ladies 10/27/12" link on the upper left.
BEACH MUSIC IN THE PARK - May 19, 2011

The second annual Decade Party was held at Thirsty's 2 on Saturday, November 27, 2010. There were about 100 Smith alumni in attendance representing classes 1964-1970 plus others from Grimsley, Page, Northwest Guilford and Ragsdale. We enjoyed Original "Boar & Castle Burgers", Buttered Steak and French Fries!
Glenwood and Friends Gathering
A number of our classmates, and other Smith alumni attended the Glenwood and Friends Gathering at Thirsty's 2 on July 24. If you lived in Glenwood, Hunter Hills, Southmont, Hillsdale Park, Rolling Roads or Ardmore between 1950-1970, you probably knew someone who attended. To view pictures, go to www.glenwoodandfriendsgathering.shutterfly.com
Our first ever class family picnic was held on Sunday, June 27 at High Point City Lake. We had several generations represented from some of our classmates. In spite of a very hot day, we had a great time!!! Thank you Phyllis and Rita for making this day a reality. Cecelia Cook Gannon and husband, David - cutos for your hard work getting us fed! Pictures can be viewed in the link to the left "BLS Family Picnic."
Join our classmates on the "Message Forum."
There's lots of chatter and a few facts. Be sure to roll up your pants legs and watch where you step!
UPCOMING BIRTHDAYS