Ben L Smith

High School




Class Of 1968
ANNOUNCEMENTS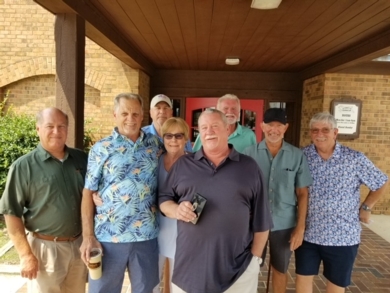 We had a delightful lunch at Stamey's Barbeque on Monday, August 2, 2021 to catch up with classmates. In attendance were Bud Parrish, Debbie Ingold Parrish, Wayne Alley, Phyllis Tew Alley, John Kelly and his wife, Cathy, Ron Whittle, Bill Baldwin, Patty Baysinger Wagner, Jerry Jones, Bobby Wood, Ken Melton, Kerry Trent and Rick Mooney.
Jimmie Alan Jeffries
November 19, 1949 ~ July 3, 2022 (age 72)
OBITUARY
Jimmie Alan Jeffries, 72, passed away on Sunday, July 3, 2022. There will be no services. Arrangements entrusted to Triad Cremation and Funeral Service of Greensboro, NC.
Looks like we have lost another former Triad radio legendary personality…
Alan Jeffries, nearly famous for being on WCOG/1320 AM, WRQK/K 99 FM, and he was on WMAG/99.5…Lots of radio experience for Alan Jeffries from over the years…
He was also a school resource officer, in the Greensboro Public Schools, as a member of the Greensboro Police Department/GPD….Jeffries family also ran a locksmith shop, and they excelled in that locksmith business…
The family locksmith business, and ironically Jeffries was a school resource at Smith High School/Ben L. Smith HS….
He was known all over town for his radio work back in the days, with 1320 WCOG…At one time, that station was the #1 radio station in the Triad….Back in the days of Dusty Dunn, Bob Dayton/Bob Pennix, Alan Jeffries, Charlie Russell/Chadwick Rockwell Russell III/Buddy Bray, Bob Shannon/Bob Roach, Sam "The Freight Train" Scott, Scott Derringer, and more big names from back in the 1960's and 1970's….
By the time the 1980's rolled around, the AM stations were dying out, and these days WCOG might be lucky to have a handful of listeners, and they pretty much operate out of a closet, over in the Trade District of Winston-Salem, N.C.
But as the demise of AM radio was emerging, Alan Jeffries made his way over to K 99 FM/WRQK…Alan Jeffries also began to specialize in Beach Music, and on the weekends on WRQK, you could hear AJ spinning his tunes, from the dunes….The sand dunes along the Grand Strand, that is….
Jeffries did well in the radio business, but it was for the most part, his secondary job…Radio was sort of like his hobby/pass time, and his job with the GPD, and the work at the family locksmith shop, were his primary focus…
Alan Jeffries had a bundle of talents, and his work became known around the Triad…You would have to say that Alan Jeffries was a true, Triad Troubadour….
Gone today at age 72, but not to be forgotten, Alan Jeffries…
RIP:Alan Jeffries
Photographs from our 50th reunion have been posted in the "50th Reunion" page located on the left side of this page.
Welcome to the Ben L Smith High Class Of 1968 web site. We began our life's journey after high school over forty years ago. This site can be used to continue communicating with classmates you have stayed in contact with over the years - and, it's a great way to find long lost friends who have just slipped through the cracks of time and have been impossible to locate. Please participate by completing your profile and ENJOY THE SITE!
Please tell other classmates about this site and encourage them to complete their profiles.
The Bossy Ladies and Bud met at PJ Chang's on Saturday, November 11, 2017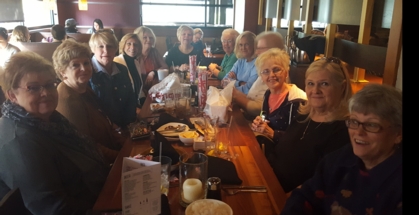 The Bossy Ladies Society met at P.F. Chang's on Saturday, October 27, 2012. A great time was had by all! For an inside view of the event, click on the "Bossy Ladies 10/27/12" link on the upper left.
BEACH MUSIC IN THE PARK - May 19, 2011

The second annual Decade Party was held at Thirsty's 2 on Saturday, November 27, 2010. There were about 100 Smith alumni in attendance representing classes 1964-1970 plus others from Grimsley, Page, Northwest Guilford and Ragsdale. We enjoyed Original "Boar & Castle Burgers", Buttered Steak and French Fries!
Glenwood and Friends Gathering
A number of our classmates, and other Smith alumni attended the Glenwood and Friends Gathering at Thirsty's 2 on July 24. If you lived in Glenwood, Hunter Hills, Southmont, Hillsdale Park, Rolling Roads or Ardmore between 1950-1970, you probably knew someone who attended. To view pictures, go to www.glenwoodandfriendsgathering.shutterfly.com
Our first ever class family picnic was held on Sunday, June 27 at High Point City Lake. We had several generations represented from some of our classmates. In spite of a very hot day, we had a great time!!! Thank you Phyllis and Rita for making this day a reality. Cecelia Cook Gannon and husband, David - cutos for your hard work getting us fed! Pictures can be viewed in the link to the left "BLS Family Picnic."
Join our classmates on the "Message Forum."
There's lots of chatter and a few facts. Be sure to roll up your pants legs and watch where you step!
UPCOMING BIRTHDAYS