Ben L Smith

High School




Class Of 1968
ANNOUNCEMENTS
CATHY YARBROUGH OBITUARY
Yarbrough, Cathy Moore

Cathy Dianne Moore Yarbrough, 73, a resident of Greensboro passed away on Thursday, May 25, 2023 after a brief period of declining health. She was born January 4, 1950 in Greensboro, the daughter of Hugh Anderson and Virginia Artness Kendrick Moore.

Cathy was a former employee with Avery-Dennison in Greensboro. She has worked for the past several years with the Hanes-Lineberry Funeral Homes. She was a past member of Order of the Eastern Star Chapter #178 where she was a Past Worthy Matron. She was a past member of the Oriental Shrine Club Ladies Auxillary as well as being a past member of the Hillbillies. She was also a member of the Red Hat Society.

Cathy was married to Mark Archie Yarbrough, Jr. who preceded her in death. She was also preceded in death by her parents; her son, Scott Campbell; her sisters, Patricia M. Wilson, Janet M. Chalflinch and her brother, Claude Anderson "Andy" Moore.

Surviving are her nieces, Sherry Chalflinch and husband Edward and Melissa Wilson Lawson and husband Chad.

Funeral services will be held at 2 p.m. Thursday at the Hanes-Lineberry Funeral Home Sedgefield Chapel conducted by the Reverend Dr. John Kimmons. Interment will follow at Guilford Memorial Park. The family will receive friends at the funeral home on from 1 p.m. until service time.

In lieu of flowers, memorials may be made to the Oxford Home for Children 600 College Street. Oxford, NC 27565or to the Shriners Children's Hospital 950 West Faris Road. Greenville, SC 29605

Online condolences can be made at www.haneslineberryfhsedgefield.com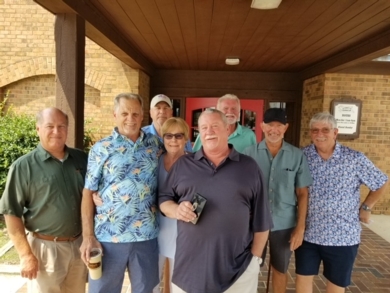 We had a delightful lunch at Stamey's Barbeque on Monday, August 2, 2021 to catch up with classmates. In attendance were Bud Parrish, Debbie Ingold Parrish, Wayne Alley, Phyllis Tew Alley, John Kelly and his wife, Cathy, Ron Whittle, Bill Baldwin, Patty Baysinger Wagner, Jerry Jones, Bobby Wood, Ken Melton, Kerry Trent and Rick Mooney.
Photographs from our 50th reunion have been posted in the "50th Reunion" page located on the left side of this page.
Welcome to the Ben L Smith High Class Of 1968 web site. We began our life's journey after high school over forty years ago. This site can be used to continue communicating with classmates you have stayed in contact with over the years - and, it's a great way to find long lost friends who have just slipped through the cracks of time and have been impossible to locate. Please participate by completing your profile and ENJOY THE SITE!
Please tell other classmates about this site and encourage them to complete their profiles.
The Bossy Ladies and Bud met at PJ Chang's on Saturday, November 11, 2017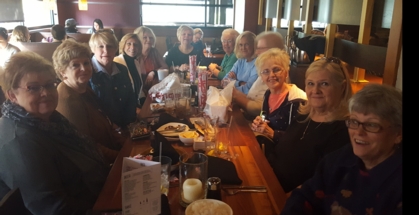 The Bossy Ladies Society met at P.F. Chang's on Saturday, October 27, 2012. A great time was had by all! For an inside view of the event, click on the "Bossy Ladies 10/27/12" link on the upper left.
BEACH MUSIC IN THE PARK - May 19, 2011

The second annual Decade Party was held at Thirsty's 2 on Saturday, November 27, 2010. There were about 100 Smith alumni in attendance representing classes 1964-1970 plus others from Grimsley, Page, Northwest Guilford and Ragsdale. We enjoyed Original "Boar & Castle Burgers", Buttered Steak and French Fries!
Glenwood and Friends Gathering
A number of our classmates, and other Smith alumni attended the Glenwood and Friends Gathering at Thirsty's 2 on July 24. If you lived in Glenwood, Hunter Hills, Southmont, Hillsdale Park, Rolling Roads or Ardmore between 1950-1970, you probably knew someone who attended. To view pictures, go to www.glenwoodandfriendsgathering.shutterfly.com
Our first ever class family picnic was held on Sunday, June 27 at High Point City Lake. We had several generations represented from some of our classmates. In spite of a very hot day, we had a great time!!! Thank you Phyllis and Rita for making this day a reality. Cecelia Cook Gannon and husband, David - cutos for your hard work getting us fed! Pictures can be viewed in the link to the left "BLS Family Picnic."
Join our classmates on the "Message Forum."
There's lots of chatter and a few facts. Be sure to roll up your pants legs and watch where you step!
UPCOMING BIRTHDAYS