Ben L Smith

High School




Class Of 1968
ANNOUNCEMENTS
James F. "Jim" Wrenn, Jr.
The Reverend James Franklin Wrenn, age 72, of Greensboro, North Carolina, passed away on February 6, 2023, from heart related issues. Jim was Minister to Senior Adults at Pleasant Garden Baptist Church until the day he passed. He lived with the impact of heart disease for many years yet had a determination to fulfill God's calling on his life and continued to serve God and others until the very end.

Jim loved music and missions. At 19 years of age he began leading music in church and faithfully served his Savior in the ministry for over 50 years. Most notably, he served as Minister of Music and Minister to Senior Adults at Glen Hope Baptist Church for 27 years, and a combined 12 years at Pleasant Garden Baptist Church. He also had a heart for missions and faithfully shared God's love on mission trips to Vermont, Georgia, Pennsylvania, Alaska, Brazil, South Africa, and Zambia. He was a member of the North Carolina Baptist Singers for 25 years and served on the National Partnership Team of the Executive Board of Baptists on Mission.

Jim had an adventurous spirit; he loved to travel, ride roller coasters, visit historic sites and museums, and even tried out for The Amazing Race with one of his sons-in-law. In his younger years he played the guitar and sang in a country band, performed in the local community theater, and won local singing competitions. In his early 20s he pursued getting a pilot's license (where he soloed) and became an amateur ham radio operator. He loved to learn and had a knack for remembering interesting facts, making him unbeatable at Jeopardy or Trivial Pursuit. After the children left home he took over the kitchen, and enjoyed cooking with his daughters and grandchildren when they visited. Jim loved to spend time watching movies at home or the Graham Cinema, going to baseball games, spending time with friends and family, and fishing. He had a fondness for peanuts, BBQ, hotdogs, ice cream, and York Peppermint Patties.

Jim enriched the lives of everyone he met. He was a hard worker who quietly and faithfully provided for and protected his family throughout his entire life, selflessly giving of himself to make their lives better. He had a servant's heart and was always willing to lend a helping hand to anyone in need. He will be fondly remembered and dearly missed by his family and friends.

Jim is survived by his loving wife, help-meet, defender, and best friend of 50 years, Cindy; his 3 children, James "Jay" (Jamie) Wrenn, Allyn (Adam) Short, and Lauren (Marcus) Orr; his 7 grandchildren, Josiah and Jaedyn Wrenn, Arrington and Ashland Short, and Emily, Samuel, and Katie Orr; and his sister, Annie Jordan. Jim was preceded in death by his parents, James Sr. and Dorothy Wrenn, and his aunt, Emily Buchanan.

A Celebration of Life service will be held Saturday, February 18, 2023, at 2 PM at Pleasant Garden Baptist Church in Pleasant Garden, North Carolina. The family will receive friends and loved ones at a reception immediately following the service.

In lieu of flowers, contributions can be made to:
Baptists on Mission
Baptist State Convention of North Carolina
205 Convention Dr., Cary, NC 27511
Or:
Baptists on Mission
Pleasant Garden Baptist Church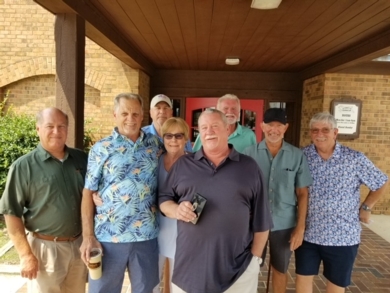 We had a delightful lunch at Stamey's Barbeque on Monday, August 2, 2021 to catch up with classmates. In attendance were Bud Parrish, Debbie Ingold Parrish, Wayne Alley, Phyllis Tew Alley, John Kelly and his wife, Cathy, Ron Whittle, Bill Baldwin, Patty Baysinger Wagner, Jerry Jones, Bobby Wood, Ken Melton, Kerry Trent and Rick Mooney.
Photographs from our 50th reunion have been posted in the "50th Reunion" page located on the left side of this page.
Welcome to the Ben L Smith High Class Of 1968 web site. We began our life's journey after high school over forty years ago. This site can be used to continue communicating with classmates you have stayed in contact with over the years - and, it's a great way to find long lost friends who have just slipped through the cracks of time and have been impossible to locate. Please participate by completing your profile and ENJOY THE SITE!
Please tell other classmates about this site and encourage them to complete their profiles.
The Bossy Ladies and Bud met at PJ Chang's on Saturday, November 11, 2017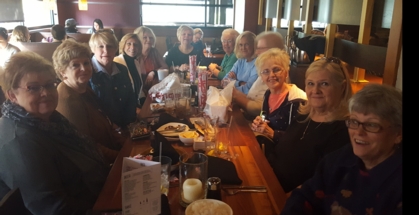 The Bossy Ladies Society met at P.F. Chang's on Saturday, October 27, 2012. A great time was had by all! For an inside view of the event, click on the "Bossy Ladies 10/27/12" link on the upper left.
BEACH MUSIC IN THE PARK - May 19, 2011

The second annual Decade Party was held at Thirsty's 2 on Saturday, November 27, 2010. There were about 100 Smith alumni in attendance representing classes 1964-1970 plus others from Grimsley, Page, Northwest Guilford and Ragsdale. We enjoyed Original "Boar & Castle Burgers", Buttered Steak and French Fries!
Glenwood and Friends Gathering
A number of our classmates, and other Smith alumni attended the Glenwood and Friends Gathering at Thirsty's 2 on July 24. If you lived in Glenwood, Hunter Hills, Southmont, Hillsdale Park, Rolling Roads or Ardmore between 1950-1970, you probably knew someone who attended. To view pictures, go to www.glenwoodandfriendsgathering.shutterfly.com
Our first ever class family picnic was held on Sunday, June 27 at High Point City Lake. We had several generations represented from some of our classmates. In spite of a very hot day, we had a great time!!! Thank you Phyllis and Rita for making this day a reality. Cecelia Cook Gannon and husband, David - cutos for your hard work getting us fed! Pictures can be viewed in the link to the left "BLS Family Picnic."
Join our classmates on the "Message Forum."
There's lots of chatter and a few facts. Be sure to roll up your pants legs and watch where you step!
UPCOMING BIRTHDAYS