Texas Sports Hall of Fame
Ricky Pearce travelled to the Texas Sports Hall of Fame in Waco, Texas, June 2016, and came back with these photos about D. W. Rutledge (class of 1970) who was inducted in 2003.
INDUCTEE DETAILS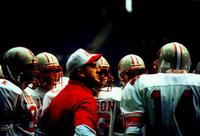 Rutledge, D.W.
Converse Judson (coach)
1984-2000

D.W. Rutledge was one of the most successful coaches in Texas high school football history. His teams advanced to seven 5A state championship games winning four in 1988, 1992, 1993 and 1995. Rutledge served as an assistant coach from 1975-1983. In 17 seasons at Converse Judson he compiled a 198-31-5 record, won 12 district championships, and took the Rockets to the playoffs 16 times. In 1985 he was inducted into the Hall of Honor at Texas Lutheran College where he captained their 1974 National Championship team and was a two-time All-America linebacker. Rutledge has served as a member of the THSCA Board of Directors and was THSCA President in 1994-95. He has been named coach of the year seven times and in 1996 was selected to coach the South squad in the THSCA All-Star Game. He was named 1998 Greater San Antonio Sportsman of the Year by the San Antonio Express News and in 2000 was presented with the Tom Landry Award.