Click on Dropbox link below for photos from our 45th Class Reunion.
**IMPORTANT, this link will expire on July 31st, so download any photos you'd like to keep!
This is a compilation of photos taken by a Westchester Academy International 2016 alumni -- AND, classmates who shared their photos with us. If you have any to add, please send to lauri.ramsey@gmail.com to add to our folder. Previous Reunion class photos are located in the 1977 Class Reunions tab above.
https://www.dropbox.com/scl/fo/6dsp2l7kb24k9r2w3hvft/h?dl=0&rlkey=owkw62somp4wfx0fvmh515gru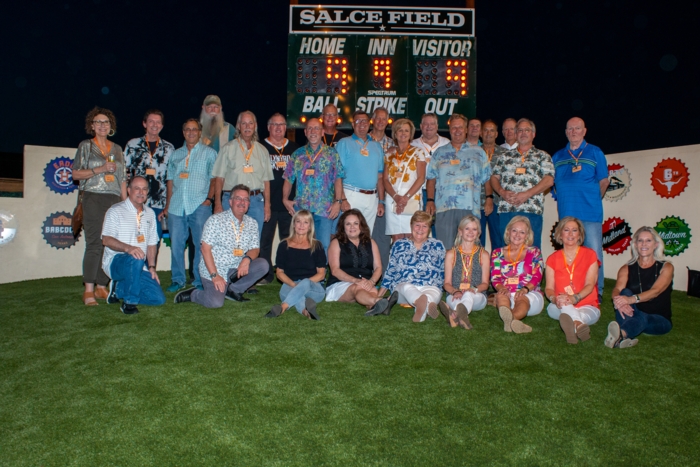 Little Woodrows, Tomball ~ 14 May 2022 ~ 45th Class Reunion
Front Row L-R: Jay Collins, David Richardson, Lauren Leanhart Savage, Kathleen James Harrison, Amy Campbell, Linda Bough White, Cindy Parish Dillon, Sandy Bartlett Bond, Patty Watkins
Middle Row L-R: Lauri White Ramsey, Tom Hutcheson, Bill Schick, Johnny Graves, Reed Brown, Kevin Keller, Michael Underhill, Chris Katapodis Trealeaven, Scott Shea, Randy Zeid, Coach Bob Latham
Back Row L-R: Andy Cook, Ted Knapp, Keith Jackson, Todd Duff, Philip Klein, Damian Seaback, Alan Musgrove
Not pictured: David Cook and Ann Lynde Cook, Mary Donaldson, Melissa McManus Chapman, and Marshia Meeks Franklin
Attending on Friday, Happy Hour @ Clay's only: Jeanne Bryan Henckel, Chip Castro, Dale Grisham, Mike Gibson, Teri Hart Courter, Kim Henckel Henkhaus, Gretchen Sauder
**Let me know if I missed anyone!
***** PLEASE READ BELOW ***
Please and Thank You -- Would you, could you, please update your contact information? We only need your name, current email, your city/state. A current cell number would be super-helpful in case your email becomes inactive.
We have (just about) run out of space to maintain this website. Would you KEEP a current and yearbook photo, and delete anything else, to help us to keep running at minimum expense?
Westchester Alumni Association and Westchester Wildcats '77 are two separate websites. We are not linked, but both have an important purpose. Would you, could you, when you update on one, please update on the other, too? If you add your thoughts on one "In Memory" page, would you please add to the other? On Westchester '77, we WILL share with the family at a later date.
If you notice any on the missing list -- c'monnnn and help, please. Retirements, layoffs, moves, email address changes, etc., have created more issues with reaching our classmates, especially with eliminating mail-outs. So -- thank you, thank you for your help!
THANK YOU to Reed Brown for an awesome 45th reunion, as our coordinator! Thanks to Damian Seaback (Clay's) for hosting a fun gathering on Friday as well.
We were thrilled to have Coach Latham attend the reunion at Little Woodrows!! He brought a handfull of basketball shirts hoping to connect with his former players -- but, no BB players attended! However, MANY in the bunch had Coach for a government/history teacher, and even those who didn't, he became our instant teacher celebrity to attend our reunion! MUCH thanks to Coach! If you have interest in a shirt, contact Lauri by end of June as we'll be donating to Westchester Alumni Association. **See photo below
As you know, our beloved principal, Mr. Dave Figari, passed away in August 2020. Reed dreamt it, and made it happen, to raise money via raffles and proceeds for a scholarship for Westchester seniors. '77 Reunion Attendees raised $350 -- so far. Westchester Alumni Association is now opening the scholarship opportunity to all alumni. Lauri contacted Mrs. Figari and she and her family are truly over-the-moon with gratitude. She said, "Westchester was our 'Camelot.' We would have stayed forever, if we could have." So passing on heartfelt thanks from the Figari's to all who have donated so far -- and donations to come.
Thanks all for now!
Lauri
**If you have any difficulties accessing information for the scholarship, contact me and I'll send to you.