20,722
Students, Teachers, Staff,
Parents, Friends & Supporters
are all invited to join (it's Free).
Our purpose in creating this website is primarily to give all the **Military Brats** who ever attended our school a place to find and reconnect with old friends and classmates (pun intended!). Every one of us has something to contribute...memories that no one else has or that differ in the telling...photos that remind us of what we looked like then, what we did, who we were with...stories and confessions we never would have shared back then, but are hilarious at our present ages!
Our vision is to make this site an ongoing "K-town City Central" for all classes,with its guardianship to be passed along as members of earlier classes do the same (Sorry, I couldn't resist!). As long as there is interest, this will always, of course, be a dynamic work in progress. It makes sense for us to focus first on the earliest classes; however, anyone from any year (you?) may jump in to set up your class. You don't have to stand in line...just call the admin!
A project this ambitious can only succeed with tremendous

Participaton &

Support

...

Yours

!
JOIN ~ CONTRIBUTE ~ INVITE OTHERS ~ REMINISCE ~ ENJOY!
Come to the 2017 K-TOWN REUNION in Charleston, SC!

Many thanks to the Artist who sent this to us for use on our website.
FRANK OFFICER, Class of 1958

Frank won a school contest with this design which appeared in the
1958 Erinnerungen. Perhaps because it was my 1st year at K-town, this has and always will be the logo I associate with our school !
There Will Be Something Remarkable to Envision, Enjoy, Eat, Experience for Everyone in
CAPTIVATING CHARLESTON and/or BEAUTIFUL BAHAMAS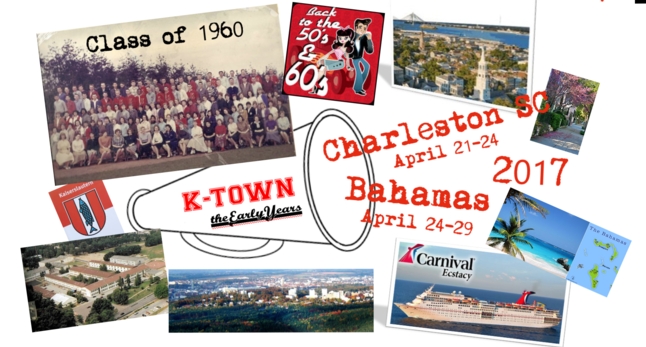 Check out the

Reunion Info Pages

and

Sign Up

before the Holidays grab your Attention! The deadline for Cruise Registration has slipped up on us
so Do That Now!!
Whatever may be your idea of fun is probably available for you to enjoy !!
How about doin' Nothing?!
Sounds good to me...
(Except for dining frequently!)
No, no, no, it's a SHIP!
Now that the holidays are history, no more excuses for postponing reunion plans!

Click on the Reunion tabs to find all the details, but here are two

Important Reminders

:
Cal

l

**

866-358-6255

**

to make reservations at Crowne Plaza Charleston Airport.

Be sure to ask for the K-town reunion rate of $122, available April 18-27.
The

Carnival Cruise

to the Bahamas is a great follow-on to our reunion, but it is a se

parate,

optional

event.

There is still space, but prices & promos are fluctuating almost daily.

If you are considering joining the fun, please call with questions and to book
Mary Severns ** 843 263-3669 ** ASAP
Please help us out by contacting anyone you know with a K-town association. Tell them about the reunion and refer them to this website! Everyone welcome!
.