Lincoln Southeast

High School




Class of 1963
Welcome LSE 1963 Knights
This is your web site to communicate, post comments and profiles, upload photos and learn about other LSE classmates. Originally this website included students listed in the graduation program. If you went to LSE with the class of 1963 but didn't graduate with us and would like your profile added, we would be happy to include you. Just click here and submit your name.
*****60th Class Reunion***** Our 60th Reunion will be on September 2, 2023 at the Lincoln Elks Lodge, 5910 S 58th St. That's just south of 58th & Old Cheney Rd. in the Trade Center. Actually, it's the same place we had the 55th reunion at, if you were at that one. We are in the process of planning so we don't have many details for you yet, but it will be in the evening for supper. Check back here for more information as we have it nailed down.
If you have constructive comments or suggestions for changes or additions to this page, please email them by clicking here.
Peruse the list of Missing Knights and provide current contact information by clicking here.
Likewise, if you know "In Memory" information about fallen Knights, please provide by clicking here.
55th Class Reunion
The 55th reunion of our 1963 Lincoln Southeast Class was held on Saturday, August 25 at 5:30 p.m. at the Elks Club in Lincoln at 5910 South 58th Street. About 76 people attended. (See the 55th Reunion Attendees link to the left to see who attended). It was great to see many of our classmates. There are more pictures on the Reunion Pictures link. There will be more pictures coming. Please feel free to add your own pictures if you took some pictures at the reunion.
At the reunion, our DJ and classmate, Paul Carpenter, played the Top Ten Songs of June 1963. Here is a list of the songs he played:
Easier Said Than Done

by The Essex

Hello Stranger

by Barbara Lewis

Sukiyaki

by Kyu Sakamoto

Blue on Blue

by Bobby Vinton

Its My Party

by Leslie Gore

Da Doo Ron Ron

by the Crystals

If You Need Me

by Wilson Pickett

Those Lazy-Hazy-Crazy Days of Summer

by Nat King Cole

So Much Love

by The Tymes

You Can't Sit Down

by The Dovells
Class of 1963 Weekly Coffee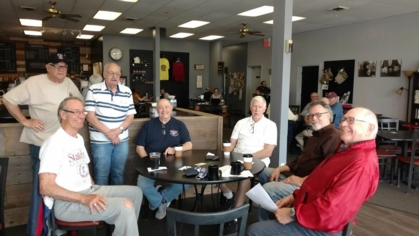 Some participats are shown here
Every Tuesday at 9:00 a.m., classmates gather at the Harbor Coffee Shop in Lincoln for conversation. So, if you are around, please join us at the Harbor Coffee Shop in the Piedmont Shopping Center.
Original Website and Facebook Page
If you would like to access our original website, click here.
You may connect to the Class of 1963 Facebook page. Click here. After you reach the page, you must log in to your Facebook account.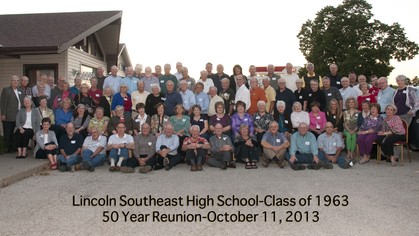 45,907
UPCOMING BIRTHDAYS