McKinney High School
Class of 1969
ANNOUNCEMENTS
•




Sadly, another classmate has passed.

John Brockman died 7-9-2021 at 1:45 AM after a long and courageous battle with Parkinsons.

John was a retired police officer, accomplished musician and friend to many.

He created this class web page so we could keep in touch and was instrumental in planning and organizing our class reunions.

A memorial service will be held at Turrentine, Jackson, Morrow on Central Expressway Saturday July 17th.

Visitation at 1:00 PM and service at 2:00 PM.

Prayers of comfort for his wife Marla,sister Ann and family.
Welcome, McKinney High School Class of 1969

1st Row on floor: John (JB) Bruce, Nathalie (Powell) Kelley, Marlita (Burke) Condreay, Mark Binion, Bonnie (George) Cottingham, Pam (LaFollette) Hill,Chris Cox
Second Row seated; Portia Timmons, Debbie (Nuttall) Monk, Debbie (Hunter) Spears, Kay (Pennington) Burnside, Sue Monroe, Sherry Jones, Tommy Jones, John Brockman
Third Row: Jackie Lynn, Ken Wheat, Larry Lawson, Karen (Sportsman) Taylor, Susan (Townsend) Evans, Kay (Eubanks) Bywaters, Charlotte (McBride) Striplin, Linda (Brazeal Aycock) James,Sonja (Fletcher) Rhea, Rendy (Franklin) Box, Madeline (Moore) Reed, Brenda (Golden) Lott, Jeanette (Sangster) Thompson, Bevelyn (Derriek) Allen, Deborah (Newsome) Dill
Fourth Row: Keith Wyatt, Kenneth Kinser, David Watson, Dudley Ivie, Sam Tressler, Juby (Winniford) Horne, Doug Hayes, Betty Henry, Oleta Harris, Butch Ford, Evelyn Ellis
Fifth Row: Joe Copeland, Gary Don Smith, David Striplin, Mike Whitehouse, Rick Bradshaw, Paul Murphy, Jim Webb, George Bomar, Randy Williams
Present not in photo: Cathy (White) Morris, Mickey Murphy
Thank you for visiting our website. We hope you will take the time to update your profile and explore the various pages on the site.
Please be sure to visit the Missing Classmates page on this site. If you have contact with anyone listed, please invite them to log in and create a profile. And please check back regularly to see what's new.
Class of 1969 Vets meeting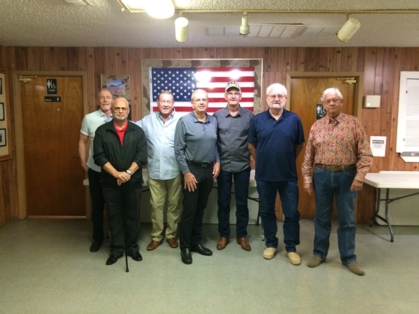 Randy Williams, Butch Ford, Mark Binion, Paul Murphy, Chris Cox, Mickey Murphy, JB Bruce
Other Service members: Bob Wood, Marvin Littlefield, Jerry Davidson, Carl Turner USAF,
Also honoring first responders John Brockman, Dudley Ivie, David Watson and Donnie Garner
If you know others not mentioned, please let us kmow.