L'Anse Creuse High School
Class Of 1970
Teachers
Junior High Teachers
Mr. Hersh, Mr. Baber, Ms. Kaser, Ms. Dobbs, Mrs Zuk, Mr. Curd and Mr. Sprunger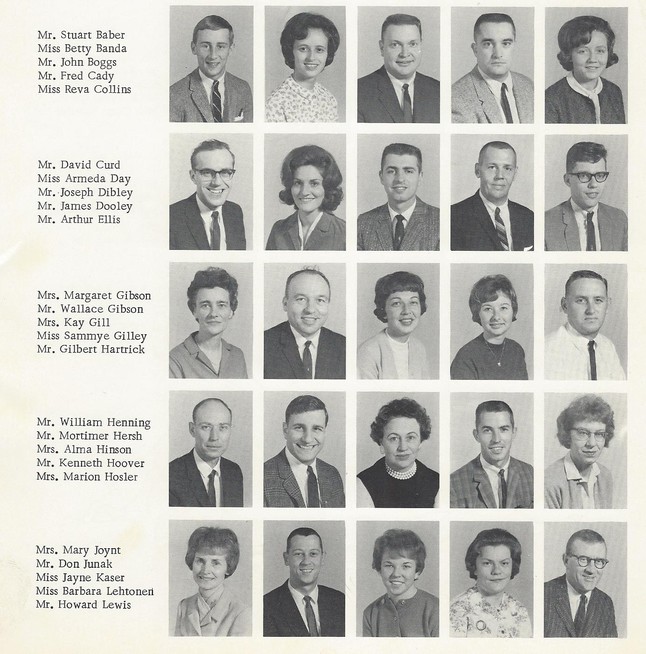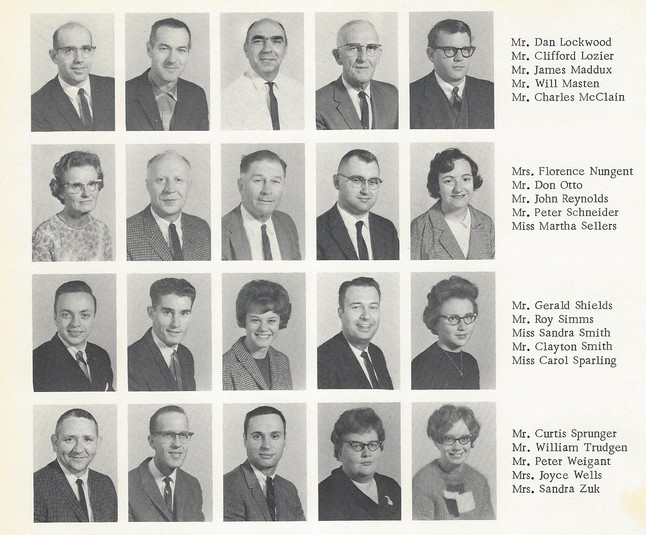 High School Teachers







Ed Smith, Principal and John Armstrong, Assistant Principal

Which Drivers Training Teacher Did You Have?
If you have a crazy driving story, please share it on the "Lancer Chat" on the Home Page. It could be during drivers training, at the Michigan Bureau while taking your driver's test, or after you received your license.


These should bring back some memories of the teachers and classes you had in your Sophomore Year.
1968
English Teachers
Front Row: Mrs. Pomeroy, Mrs. Lobdell, Mrs. Dittrich, Miss Taylor
Back Row: Mrs. Zelinski, Mrs. Muzi, Mr. Fournier, Mrs. McCarthy, and Miss Montgomery
Math Teachers

Front Row: Miss Baden, Mr. Roth
Back Row: Mr. Portale, Mr. Beard, and Mr. Lundquist
Science Teachers
Mr. Hawkins, Mr. Munro, Miss Nartker and Mr. Maciejewski
Foreign Language
Mrs. Shoemaker, Mr. Stephens, Mrs. Nwanko, and Mr. Kelley
Speech and English
Mr. Richter
Social Studies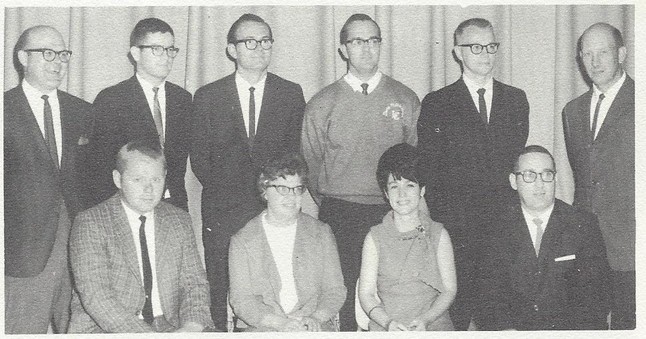 Sitting: Mr. Liebnitz, Miss Waisanen, Miss Kopp, Mr. Mount,
Standing: Mr. Gill, Mr. Cleven, Mr. Murphy, Mr. Jordon, Mr. Arvo, Mr. Nickel
Industrial Arts
Mr. Kear, Mr. Roslund, and Mr. Shoemaker
++++++++++++++++++++++++++++++++++++++++++++++++++++++++++++
Quiz Time!
How well do you remember some of the Male Teachers from our junior high and high school years?
Grab a piece of paper and a pencil, number 1-10, and try and match the names with the faces! Good Luck!
Photo 1
Photo 2
Photo 3
Photo 4
Photo 5
Hint: You might have had him for Government Class.
Photo 6
Hint: He taught chorus
Photo 7
Hint: Biology Class
Photo 8
Hint: Study Hall and Boy's Gym Class
Photo 9
Hint: You might remember him if you got in trouble in junior high
Photo 10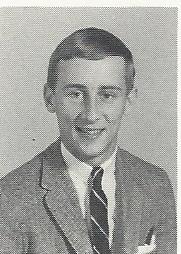 Hint: 8th Grade English and Social Studies
Scroll down for the answers once you finish! (No Peeking Until You Are Done!)
1. Photo 1 is C / Howard Lewis
2. Photo 2 is H / Roger Bunton
3. Photo 3 is I / Jim Dooley
4. Photo 4 is J/ Don Otto
5. Photo 5 is E/ Dan Murphy
6. Photo 6 is D/ William Trudegon
7. Photo 7 is G/ Dan Lockwood
8. Photo 8 is B / Fred Cady
9. Photo 9 is F / R. E. Elliott (Assistant Principal)
10. Photo 10 is A / Stuart Baber
If you got 10 out of 10 you must have a fantastic memory or, worked for LC!
If you got 8-9 out of 10 that is very impressive!
If you got 6-7 right, GOOD JOB!
If you got 3-5 right, don't worry, it has been 50 plus years for some of these photos!
If you got 0 right you must have been driving around Mt. Clemens rather than going to class!

8th grade science teacher..
Charles Mc Clain. I believe that is Stu Baber's butt in the photo...nice photo. I believe they are playing the game Twister at Vicki Buckman's party.