Muscatine High School
Class Of 1988
Muscatine News
Wow, the information below if from the 2008 (20th reunion time frame) I forgot how difficult that time was for many to get back.
The following are links listed in the forums, but I've reposted them all here to find easier. The next 2 links are for road conditions, and the phone number for conditions was also listed.
http://iowadot.gov/floods/index.html
Phone numbers, 800.288.1047 or dial from your cell phone 511 and it is a free airtime call according to the posts.
We have some Flooding photos, submitted by Tammi Drawbaugh (Bartholow) from 6/15/2008. The photos are shown below. They include just outside the Hotel Muscatine, and along River drive. Also, check out the link for more flood photos and news.
We have some new photos of the flood damage on local roads (Highway 6 and F70) and interstates (I80)
http://www.press-citizen.com/apps/pbcs.dll/frontpage
This is in front of the Hotel Muscatine - corner of Mississippi drive and Iowa avenue
This is at Mulberry where it intersects with Mississippi Drive. To the right - behind the brick wall used to be where the Elks building set. It is now the home to HNI Corporation.
This is at the corner of Iowa Ave and Mississippi Drive.
This is a shot from the bridge over to IL.
The below photo is from Father's Day June 15, 2008 - standing on Highway 22 west going towards Iowa City - right after crossing the bridge over the Cedar River. The river is over the road and the road has been closed for about 4 days now.
The below photo is taken on Fathers Day June 15, 2008 standing on Highway 22 west (going towards Iowa City) after crossing the bridge over the Cedar River. Highway 22 is currently closed.
This picture is taken standing in Fredonia (about 25 miles south of Muscatine) looking towards highway 92 (also closed into Columbus Junction). Fredonia had an emerency mandatory evacuation on Saturday 6/14.
This is a shot from the bridge that goes into Columbus Junction (about 25 miles south of Muscatine on highway 92). You can see the river is up to the bridge. Columbus Junction has an incredible amount of water. Governor Chet Culver visited Columbus Jct. earlier this week and stayed to help fill sand bags.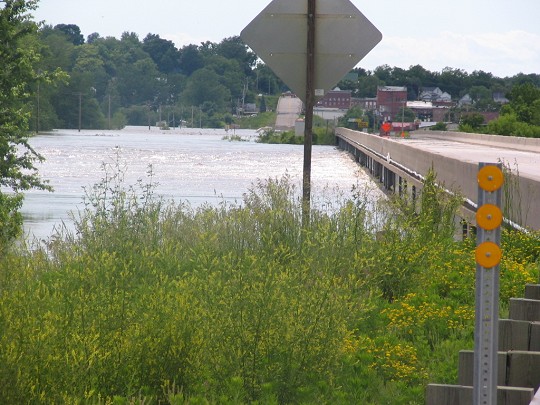 This shot is taken from the bridge over to IL on 6/15.
This photo is the observatory to Lock and Damn 16 on the Illinois side of the river - right across from Muscatine.
Mississippi Drive as it turns into Mulberry
Looking down Mississippi Drive
This is a picture of F70 towards West Libery taken on June 25, 2008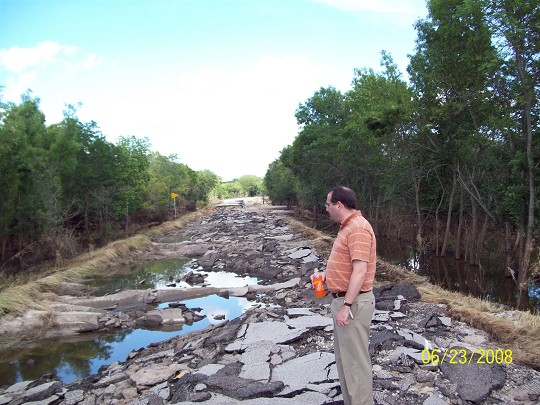 This is a picture of Highway 6 towards Iowa City taken on June 25, 2008
The rail bridge going into Columbus Junction that spans the Cedar River, collapsed Sunday June 22 at approximately, 11:30 pm. Here are a few pictures of that.
The link below is a video of the Bridge Lighting that the photo below highlights.
If you have not been in Muscatine for a while, go down to the bridge at night and see all the hubbub.
https://www.youtube.com/watch?v=nObPOkD7T4U
NORBERT F BECKY BRIDGE OVER THE MISSISSIPPI->
This is the updated front of the High School.
If your interested in News about Muscatine, specifically members of the class of 1988 or the people that were in school during our time, which really covers students 1982-1991 when you think about those that were there before us and those that came after. We will try to keep the content specific to 1988 when applicable. If you have suggestions, please send them to the main contact us address for this site. Found here. http://www.muscatine88.com/class_contact.cfm
General Info- There are tons of Muscatine specific web sites, by going to www.google.com and typing in Muscatine, you can find almost anything you want. But the following 2 sites are the best sources so far discussed by alumni for finding information related to former classmates. Again, if you have suggestions on finding others or reconnecting beyond classmates.com, please let us know.
The High School http://www.muscatine.k12.ia.us/index2.htm
The Muscatine Journal http://www.muscatinejournal.com/
Interested in current high school sports information, check out the following link below.
I hesitate to post most things, but I thought I could not resist. It is the current MHS history Club web site. Can you image such a thing in 1988? If you really want to see some oddities, take a look at the video links on the site to the Custome Ball. It is a YouTube video, so beware.
http://www.mhshistoryclub.com/
Video Link below of Dance.
https://www.youtube.com/watch?v=TOCo52B7VYY
www.kenpurdy.com