Natick High School
Class of 1970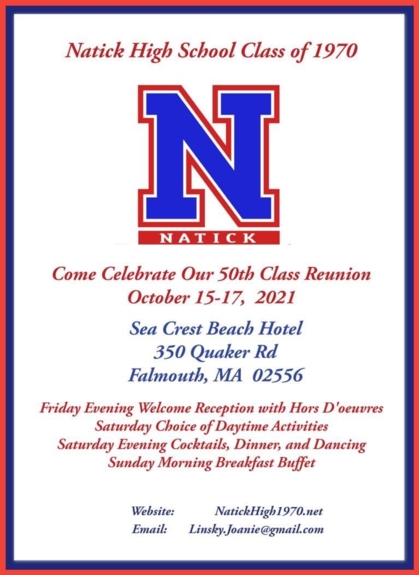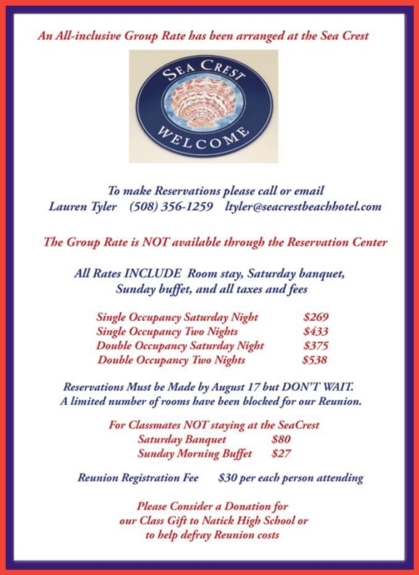 Hello Class of 70
First and foremost, we hope this finds you healthy and safe during this chaotic time. Speaking of time...let's talk about something positive and "timely!".
Our 50th reunion has been rescheduled to the same fall weekend next year: October 15,16,and 17,...2021. It will still be at the Sea Crest Resort in North Falmouth, MA. All activities, prices, and lodging packages remain the same. We are NOT sending out new invitations so we need everyone's help to get the word out. Going forward, we will include an RSVP that we ask everyone to fill out and send back. Please include your registration fee (30.00 per person), plans for accommodations, banquet and brunch fees (if appropriate), and any donations you choose to make. Included on this RSVP is a list of activities which will take place and be organized for you. Remember, there is a package being offered by the Sea Crest which includes room for one or two nights, Saturday Night banquet dinner, and Sunday Brunch.
We have blocked off a limited number of rooms at the discounted package price. Please note...they have many other functions occurring that same weekend so make your lodging reservation SOONER rather than LATER.
Your reunion committee
Joanie, Joni, Jane, Jane, Diane, Diane, Patty, Patti, Debbie, Jim, Kevin, and Gil.
contact Lauren at the Sea Crest to make package reservations
Ltyler@delawarenorth.com 508-356-1259
Please DO NOT contact Larissa (as shown on the invitation)