Natick High School
Class of 1970
September 7, 2021 - After lengthy discussions with the reunion committee, we are writing to address the question, "What is being done to ensure that the reunion will be safe to attend because of the most recent Covid numbers?" We know there is no guarantee, however we want to assure you that we hear your concerns and will do our best to address them. We are in contact with The Seacrest weekly whether it be for menus, reservations and their most recent policies. We strongly ask that all attendees be vaccinated and wear a mask when inside the facility. We will be asking for your most recent phone number and address. There will also be the opportunity to attest that you have been vaccinated. We are working with The Seacrest to have as many activities be held outside, including our cocktail hour and dinner weather permitting.We realize that the Covid news is very fluid, so that things may change, and we will provide updates as they become available.
This is going to be a fantastic weekend. A few housekeeping things that need addressing. For those playing golf, please let Diane Young know by Sept 21. Right now, Vinny McGuire, Ray Bigelow, Tom Williams, Bobby Raider, Diane Young and guest are playing. Jim Linsky is setting up Pickleball. Please let him know if you are playing so that arrangements can be made. Yoga is set for 8am, Saturday. Join us for a peaceful practice on the beach. Let me know if you are coming. If there is an activity that you need info on, please let me know.
Get your 30.00 registration fee in for a 70 Now weekend
Letter from Jane Mulligan Hardin -
Hello Classmates and Friends,
This is the reunion you DON'T want to MISS!! Think of all we have been through since March 2020! Hopefully, you have been able to obtain a vaccine and have experienced the joy of going maskless, at least on most occasions!
I am asking you to think seriously about attending our delayed but not cancelled reunion scheduled for October 15-17th 2021 at the Seacrest Resort in Falmouth, MA. It would be so nice to sit down with one another over a cup of coffee or a glass of wine or just water!
What are some things you remember from your time at NHS? I remember Mr. Garnett's white buck shoes!
I remember being afraid to go into the girl's room near the cafeteria because there was ALWAYS someone smoking in there and I was sure I would get caught!
I remember skipping a typing class to study for a Spanish test...and got busted. I was such a nerd, that I didn't even skip a class to have fun, I was in the library!!! Even Mr. Sticklor was rather surprised when I showed up in his office.
I remember being very impressed with Billy Finn, Bill Welch, Emily Rosenthal, among others because they were all so damn cool! I really loved the kids in Mr. Garnett's class….and that was one of my all time favorite classes, along with International Relations with Mr. Culhane.
I remember Sonny Kaizer bringing me the Mulligan Street sign because the town was putting up new ones and he brought it to my house. I still have it!!! I remember having crushes on a lot of different boys ( not going to disclose)
Time for some trivia:
What was the name of the Winter Dance that we held in ( I think) our junior year? It was in the cafeteria.
What math teacher was in the National Guard and several of my classmates could always get him to talk about the Vietnam War and avoid trigonometry?
What beach did most people go to on Senior Skip Day? ( not me, I wasn't cool enough!)
Please come to the reunion! Come for a little, come for the weekend!
Best wishes,
Jane Mulligan Hardin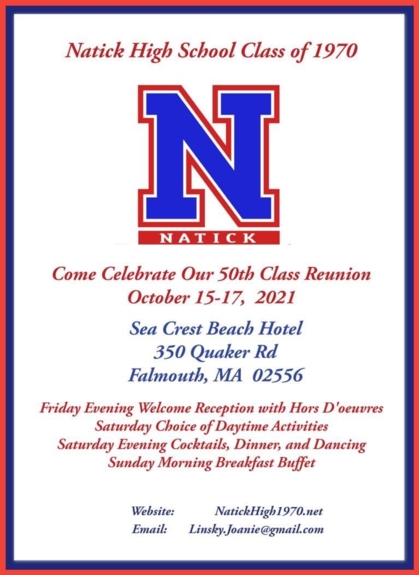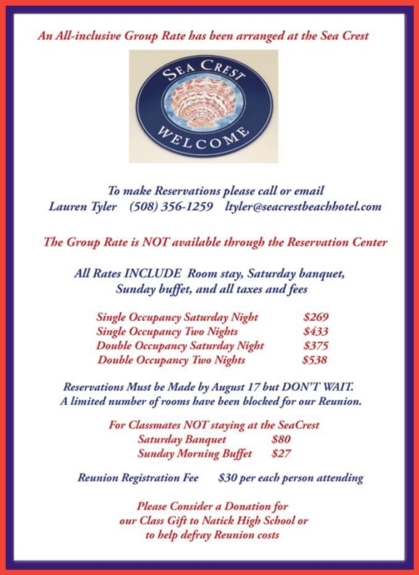 Hello Class of 70
First and foremost, we hope this finds you healthy and safe during this chaotic time. Speaking of time...let's talk about something positive and "timely!".
Our 50th reunion has been rescheduled to the same fall weekend next year: October 15,16,and 17,...2021. It will still be at the Sea Crest Resort in North Falmouth, MA. All activities, prices, and lodging packages remain the same. We are NOT sending out new invitations so we need everyone's help to get the word out. Going forward, we will include an RSVP that we ask everyone to fill out and send back. Please include your registration fee (30.00 per person), plans for accommodations, banquet and brunch fees (if appropriate), and any donations you choose to make. Included on this RSVP is a list of activities which will take place and be organized for you. Remember, there is a package being offered by the Sea Crest which includes room for one or two nights, Saturday Night banquet dinner, and Sunday Brunch.
We have blocked off a limited number of rooms at the discounted package price. Please note...they have many other functions occurring that same weekend so make your lodging reservation SOONER rather than LATER.
Your reunion committee
Joanie, Joni, Jane, Jane, Diane, Diane, Patty, Patti, Debbie, Jim, Kevin, and Gil.
contact Lauren at the Sea Crest to make package reservations
Ltyler@delawarenorth.com 508-356-1259
Please DO NOT contact Larissa (as shown on the invitation)