Oakland Technical High School
Class Of 1960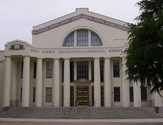 Message Forum
| | | |
| --- | --- | --- |
| | | |
09/09/19 10:54 PM
#19

So many of us went to Claremont Jr. Hi and then Oakland Tech. I felt that Claremont, it's teachers and my fellow classmates, prepared us for high school. How many remember passing "Peyton Place" around, just reading the "interesting parts," passing the book from hand to hand? I recall playing basketball, baseball, being in a science class where the teacher disected a cow's eye, being in math class where we learned a little about the stock market and then the teacher played his guitar and sang about th "Old Woman Who Swallowed a Fly," taking the Constitution test, and practicing getting under our desks for a an atomic bomb attack, and oh yes, Elvis Pressley! High School was so much bigger and we kind of lost the comaraderie of Claremont. I now look back, 50+ years, and am grateful for those years that we all shared before we knew what life was all about. Thank you for setting up this site so I can once in a while tune into and recall memories and look up faces in my yearbook.
09/10/19 12:09 PM
#20

Yes, I share those same memories. Also "fire drills" and PE dressing and showering. So much different than today's schools. All the things. Feeling a little sad that we are all getting so old. I hope you are in good health and have had a good life. I am and I have - with more living yet to do. Thanks for posting.
09/11/19 03:57 PM
#21

Happy Birthday
09/15/19 02:38 PM
#24

Hi Emilia,

I'm very sorry for your loss. At our age it's an inevitable part of life, somehow making life more meaninful than ever, but still bringing new challenges & even new opportunities for growth. I remember you from when you started at Peralta elementary, and your sharing what life had been like before coming to the US. I thought you were pretty brave, and it seems you still are. I'm glad you remain healthy, keep up the good work.

Sincerely,

Phyllis (Aboumrad) Arroyo
09/18/19 12:50 PM
#25

Thanks for remembering things from so long ago. Though I keep in touch and visit my famiy in Hungary, I am so grateful for all the US has given me, and the wonderful people who have touched my life. I am 100% American now, I vote, and sometimes participate in community events to put feet on my appreciation. I still have the photos sent to me before our 50th reunion, us from Peralta. God Bless us all.
09/19/19 08:11 AM
#26

Emilia - I have many memories of the choir trip to the Squaw Valley Olympics. What an amazing opportunity for us! I can almost still sing the Olympic Hymn!
09/20/19 08:04 AM
#27

How is everybody doing, glad to hear from you all.
02/27/20 05:28 AM
#28

Hey, Classmates of '60! This is Munich calling!!!...Following what's happening over there from over here is Friggin' SCARY!!!! I hope, NO,...I KNOW you ALL, regardless of being Red or Blue, will do the RIGHT THING in November and help stop that "Orange-Vain-Glorious-Racist-Blow-Hard" in the WH and his angry cult from destroying the soul of our country!....Friends, It's our LAST chance..... I hope to get over for the next Class reunion. Stay safe! Soulful Greetings, Ron👍🏾(www.ron-Williams.de)
08/04/20 10:23 PM
#29

Just thought I'd let you classmates know about two Oakland Tech videos I found on YouTube:

The first one was made in 1959 and compares Tech with another high school in the midwest: https://youtu.be/Z0kIJUU5bVA If for some reason this link doesn't work, the video is on YouTube as "Oakland Technical HS Education Video"


The second one is the history of Tech: https://youtu.be/7SlXAYgY3Yw

Have fun, stay safe,

Cecil
08/05/20 08:18 AM
#30

Hey Cecil, and fellow Technites... What a world we've enjoyed before and since 1960! Each day as time rolls by I realize even more how precious were my days at Rockridge, Claremont and Tech. When I see or hear the names of classmates I instantly conjure images and memories. I'm sure many of the wonderful people who have touched my past have perhaps little recollection of me today but rest assured I remember you as a significant part of the mural of good feelings that make me who I am. Stay healthy... ron oznowicz
08/06/20 09:16 AM
#32

Classmates, Glad to hear you are healthy and well. We are retired and living in Santa Barbara. Post so we know how you are doing. Look forward to seeing you at the next reunion. Best wishes, Dave Inouye
08/06/20 09:40 AM
#33


Retired living in Bend Oregon
08/07/20 09:12 AM
#34

Living in beautiful Sisters, OR. I've had family and friends staying since 7/10. Lots of hiking to and swimming in beautiful lakes. My daughter hikes ahead of me as I slow down with elevation gain-bummer! Paddle boarding and kayaking add to our days. I am more than fortunate!
08/07/20 08:37 PM
#35

All is well at Lake Tahoe - From the above responses, I surmise the Class of 1960 is, for the most part, living the good life in their retirement. With the pandemic, I am amazed at how many Califorians are moving to Tahoe.

Gary Thomsen

Incline Village, Nevada

P.S. Please keep wearing your mask. Assuming we are all the same age, we are all at risk.
08/08/20 08:22 AM
#36

Hi Cecil and fellow classmates.

First I want to thank Cecil for posting the information about the videos. While I was viewing the first video I notice a video listed for the class of 1960 ROTC parade. It's about 4 minutes long without sound and a bit grainy, but otherwise it brought back some memories. I was even able to pick myself out in the drill team.

I hope everyone is doing well and staying safe and healthy. All is well here in Drummonds, TN. Pat and I moved here in April 2012, to be closer to my sons. West Tennessee is a great place to live. I'm totally retired now. I was volunteering at the Memphis VA Medical Center, but when the pandemic hit all the voluteers were told not to report until we were called back.

Bob Willis
08/09/20 03:12 AM
#37

Bob, Servus from Munich! Was "Captain Ron Williams" visible in the Video? 😉....I hope you're holding up during this Corona Horror and the absence of moral and competent leadership in the WH. Check-out my new song on YouTube: "ENOUGH IS ENOUGH" from BIG BLOC...if you like it pls share.Soulful greetings and STAY SAFE!!(Class of 1960)Ron👍🏾(www.ron-williams.de)
08/09/20 06:27 PM
#38

Hey Ron,

Congratulations! ENOUGH IS ENOUGH from BIG BLOC is an incredible piece of music. We need to have it played, right now, all over the United States. It is an important, relevant, and moving message for these times. It's a geat, soulful perfomance with fantastic lyrics. Stay with it brother!
08/10/20 12:34 AM
#39

Hello Everyone. Sylvester Mosley , Good to see and here from many of you'll. Take care,

Hope to see everyone on our nex Reunion.
08/10/20 10:50 AM
#40

Thank you, Ron. The song certainly speaks to me and millions of us! I will be sharing it on Facebook and with my church community and whoever else I can think of. I was wondering if you have a son who was involved in the production. In gratitude for sharing your talents. Peace and blessings, Sherry
08/13/20 06:46 AM
#41

Cecil, Sherry, thanks for your compliments! I started writing the song immeaditately after watching George Floyd being murdrerd and then witnessing the amazing BLM protests from millions of people around the world. Here in Munich the Afro-Germans planned for 600 to come to the Königs Platz, where Hitler and the SS once held their Nazi parades and celebrations, 25.000 turned up!!! Our generation MUST encourage the youth of today to get into "good trouble" as John Lewis said. Oakland, the East Bay, has always been the home of progressive politics. Now that our "home-girl" Kamala has a seat at the Table of Power maybe we can finally, as I say in the song, "reclaim the dreams of the Founding Fathers" and become "true red white and blue". Soulful greetings to ALL the Class of '60 from your Class Vice-President😉👍🏾
08/13/20 06:57 AM
#42

Sherry, no my sohn Julian's not on the recording. He's busy doin' his own thing. He snd his partner just got DRAKE to pick up one of their Songs(!)....that's pretty awsome. Check him out on Instagram...on Facebook: Ju Will - Blitz Music Club. I hope we can get together for the next Reunion...Stay safe👍🏾
08/14/20 11:13 AM
#43

Glad to hear from classmates. Wish more of us would check in. Am living in Henderson (LV)(20 years), Nevada, after having lived in Carson City, Nevada, for 25 years. Am happily surrounded by my children, grandchildren, and now great-grand children. My house is where we can all get together, big enough with a good sized pool that I keep at 90 F so the babies enjoy being immersed in it. Widowhood does not suit me, I love the title of a book, "OK, You Can Come Back Now."

Had planned to travel, but with this virus, not possible. I did make it to Africa, Tanzania, with Global Volunteers. It's a great organization that works with peoples all over the world, they only participate if they are invited to do so, and they require local volunteeers to work beside those of us who come for 2 to 3 week periods. We worked with local school children and did daily home visits with social workers who are there to improve the health of pregnant women and that of their babies. Our compound worked with three villages that asked Global Volunteers to help improve care for their women and babies. If anyone wants to check it out just go to the Global Volunteers website. I know people that have gone to China, Hungary, and Tanzania. I loved the idea of going to Italy, prior to the pandemic. They also serve places here in the US. Their creed is that local volunteers must participate alongside their volunteers. So one gets to work with locals, who are in charge and we do whatever they need us to do.

I know we all have stories, I would love to hear them!
| | | |
| --- | --- | --- |
| | | |