Oakland Technical High School
Class Of 1960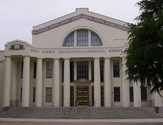 Welcome to the Oakland Technical High Class Of 1960 Website!
We have created this website to provide an easy way for members of the Class of 1960 to keep in touch and reconnect with each other. It will also serve as a "meeting place" for classmates to find out the latest information about our 50 year Reunion set for 2010 at the Claremont Resort!
We hope you find this website both useful and enjoyable. Take a moment to browse the many features included in it and please pass the word on to those classmates that haven't yet signed up.

Want to see what "Tech" looks like today?
Click on the Bulldog to go to the school website:
ANNOUNCEMENTS
•

Thank you, Cecil, for the link to the videos. Nice to have. I attending some of the festivities in 2015 and learned a lot about Tech that I didn't know before. Such as:
1) Good - The school principal took Tech materials and the diplomas to the internment camp where the Japanese Americans had been imprisoned after the Japanese exclusion after the start of World War II.
2) Not good - sometime in the late 1940s or early 1950s a couple were refused attendance at the senior prom because one was black and one was white.
3) Good - Tech has the highest number of women admitted to MIT.

My doctor lives in Oakland and her daughter is a student at Tech. From her and others I hear that Tech is considered a very good school to attend. Which we all know from when we went there.

To update on me -- I'm living in El Cerrito and doing well during the pandemic. Retired but keeping active with (1) representing El Cerrito on the County Library Commission; (2) volunteering as a legislative advocate with AARP to our local Congressmember, State Senator, and State Assemblymember; (3) mentoring 2 Berkeley students who want to go to law school (one will be starting at Harvard this fall) and 1 Berkeley Law student; and (4) volunteering with the California Alumni Association interviewing and rating candidates for Alumni Association scholarships.

I am also on a short-time gig with the Wisconsin Democratic Party (remotely) doing voter protection for the upcoming election. (And, if anyone wants to do voter protection or get out the vote work for the election and don't know where to volunteer, I've got lots of suggestions -- contact me at bichael@berkeley.edu.)

•

RECEIVED INFORAMTION THOMAS VINCENT O'CONNOR DIED AUGUST 1, 2017.

•

See the below link for inforamtion regarding Tech High's 100th Anniversary activiites. We are planning a 55th Reunion get together durign the same time period. So, save the dates and we will keep you posted.

http://oaklandtech.com/staff/centennial/

•

Class yearbooks are available on CD. They are being offered as a fundraiser for the After School Peer Tutoring Program.

Click on the CD icon for ordering information.

•

Welcome Classmates!!!

If this is your first time to this website, please find your name in the list located in "Classmate Profiles" and click the "Join Now" button. Be sure to update your contact information and create a login so you can access member only sections.