Oakland Technical High School
Class Of 1960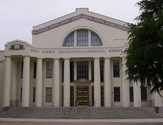 Ronald (Ron) Williams
Profile Updated:
February 9, 2021
| | |
| --- | --- |
| Residing In: | Munich, Bavaria Germany |
| | |
| --- | --- |
| Occupation: | Actor, Singer, Performer, Entertainment Professional |
| | |
| --- | --- |
| Children: | Daughter: Ariane Itt Born: April 1975 ( www.ivotion.de ) Son: Julian Taylor Williams, Born: 28. June More… |
| | |
| --- | --- |
| Military Service: | US Army, Military Police, Print Journalist, AFN Ra |
Yes! Attending Reunion
Friends, Servus from Munich! I've just finished in the studio working on a fascinating 5 CD audio book. It's a 1948 book about fascist agitators in the United States in the 30' and 40's. It's german title FALSCHE PROPHETEN ( FALSE PROPHETS). The autor, Leo Lowenthai, a german jew who escaped to America from the terror of Nazi Germany. It's considered one of, if not the most, comprehensive studies of this ugly phase of our nations history. I share the microphone with Axel Wostry, one of Germany's top narrators. My part, speaking the original texts, proclamations and speeches in english and some in german of some of these repulsive enemies of our constitution. Hearing the words, the messages of these proponents of hate, and instigators of racism and anti-semitism of our recent past and then realizing how similar they are to what Trump and his cohorts have been saying the past four years is truly scary. It's almost as if Lowenthal wrote it during these past demeaning four years! We find our nation today in very DIRE STRAIGHTS....Let's do our parts and keep saying loudly NO to anti-semitism, racism and hate. Soulful greets and pls STAY SAFE! Ron ???? BLM!!!!!!
Gail, soulful greetings from Munich from Ron Williams!!! Stay safe over there in "Trumpvania"..??..(www.ron-Williams.de)????Ron
What sad news! Barbara and I lived as teens just a few hauses apart on Alcatraz Avenue. Every school day morning we took the same bus up to College Avenue and on to Tech for four years. Although I've been an expatriate living in Europe almost 50 years now I've remained a friend of Barbi and her husband Hans and their son Kevin and his sister Jennifer (I sang at her wedding) and I've spent many visits to Oakland as a guest in their home. She and Hans were my last real connection to "home"... to Oakland, since all my family have passed on. I will sincerely miss her. R.I.P. Barbi....Ron Williams