In Memory
Desmond Gleeson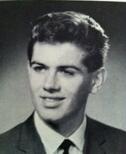 Very sad news reported by Bruce Canonico...
Des passed away Saturday, March 2, 2013. He was married to Patricia DeLucia from the class of '64. They lived in Rockville Centre, and had two children, Michael and Charlene. Des worked for United Airlines at Kennedy his entire working career.
Bruce Canonico, September 15, 2017
Des was stationed in Baltimore after OHS with Jim Conlon. They "commuted" to Long Island together on the weekends.
Bill Eagen, March 03, 2013 8:02 PM EST
High school would have been a boring place, indeed, without Des. Whether it was walking to the Townee Tavern in a blinding snow storm or cramming for the Chemistry Regents, it was all a blast because of Des' quick wit and infectious laugh. Gus' alter-ego will live on in our memories. See you on the other side bro.
Les Goldschmidt sent this photo of artwork Des did for Bye Bye Birdie: