IFC Tours for Vallarta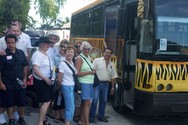 Donate to our CPP
DONATE to our Cleft Palate Program.
The International Friendship Club has a long history of supporting the correction of Cleft Palate deformities. Our Cleft Palate Program has doctors and Nurses who donate their time, skills and talents to put smiles on the faces of young children. Other volunteers give their time and services openly. Hospitals donate the use of operating rooms and recovery rooms.

But there are expenses! Anesthesia, medicines, operation supplies from sutures to bandages to surgical gowns and gloves, etc. These expenses are paid for by proceeds from the Home Tours, other IFC fund raisers, and generous donations from people just like you.,

You can help. Your generous donation will allow us to continue to treat this birth defect and put smiles on little faces.

Please click the DONATE button below. Donations can be made through PayPal using your paypal account or with a regular credit card.
NOTE: Your donation is in Mexican pesos. Paypal will convert to your currency based on current exchange rates.