IFC Tours for Vallarta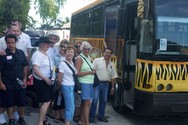 Welcome to
Puerto Vallarta Home Tours
benefiting
The International Friendship Club
and its well known
Cleft Palate Program.
For Reservations, go to http://www.toursforvallarta.com

Our home tours are the original home tours in Vallarta and have been offering a glimpse behind the closed doors of spectacular homes in the area for over 30 years!

The 2020/21 Home Tour Season has been postponed due to the Corona Virus. In December, we shall announce plans for The beginng of the new year.
Home Tours will be on Tuesday and Wednesday, at our convenient departure point,
The Sea Monkey Restaurant.

We look forward to greeting you again in the upcoming year.
For Reservations, go to http://www.toursforvallarta.com

View IFC Home Tour in a larger map