Welcome to the Silsbee High Class Of 1976 website.
ANNOUNCEMENTS
40TH SPIRIT OF 76 CLASS REUNION
~ ITINERARY ~
FRIDAY - October 7, 2016
("Sporty at 40" T-shirts will be handed out; be prepared to change into it before Alumni Reception)
1:00 pm - Meet classmates at High School Auditorium
1:30 pm - Alumni Reception & Photo Booth
2:00 pm – PEP RALLY (Bring noise makers)
7:00 pm – Homecoming Game (Those that wish to attend)
10:00 pm to 12:00 pm – After Game Social Mixer at Novrozsky's - I will have T-shirts that were not picked at the Pep rally with me to hand out.
Note: Novrozsky's has generously offered their facility at no charge after they close and will retain their staff for us to have a private party. Any food or drink should be purchased on site and no outside drink/food will be allowed. Please remember they have to pay their staff to remain and we should make sure they are compensated for their time in return for their generosity.
SATURDAY – October 8, 2016
Wear your "Sporty at 40" T-shirts for parade - I will have any not picked up beforehand to hand out.
8:30 – 9:00 am – LINEUP at the Silsbee Doctors Hospital
10:00 am – Parade begins
11:30 pm to 5:00 pm – Tiger Prowl - Downtown Silsbee (Bring your lawn chairs)
7:00 pm to 1:00 am – Dinner/Dance - Palm Plaza Jewel Room (BYOB)
Note: The dress is whatever you are comfortable wearing but for those that want us to tell them ....dressy/casual!
SUNDAY – October 9, 2016
10:00 am – Worship Services – Old Jones Decorating Center next door to First Baptist Church
~ PROBLEMS WITH REGISTRATION ~
We are experiencing a problem with the "Donation Module".
If you receive an error at the end of your registration preventing you from finalizing the registration then change your donation amount to "0" and continue to registration. Then you can go back to the Donation Center and make your donation.
Let me know if you are experiencing any problems. Thanks!
REGISTRATION IS AVAILABLE NOW

Who's Sporty at 40???
WE ARE!!!
Let's "ROCK" the gym with the SPIRIT OF 76!
WHEN: October 7, 2016
WHERE: Silsbee High School Pep Rally
TIME: 1:00 pm
We will meet at Silsbee High School ~ Alumni Reception at 1:30 and pep rally will immediately follow.
LET'S PACK THAT GYM!!!
Time to relax after the game and enjoy your 76 Peeps!
Come grab a bite to eat, have a drink, or just show up and enjoy everyone's company!
(This will be a "private party" and the establishment will be closed to the general public.)
Don't let these reasons keep you away from having one of the best weekends you will have for a very long time!
Excuses we have heard in the past...
"I am too fat"......WHO CARES.....we are glad you are ALIVE and at our age most of us are fat!
"I don't have anything to wear"......WHO CARES.....we want to see YOU; not what you are wearing!
"I wasn't very popular back then"......WHO CARES....EVERYONE is popular NOW!
"I don't have the extra money".......EVERYONE CARES.....you may attend the Social Mixer FREE!
What we have heard from those same peeps afterwards....
"I can't believe I almost backed out!"
"I can't believe I wasn't going to come!"
"I am so glad you talked me into coming!"
"This was the most fun I have had in I couldn't tell you when!"
"This was worth every penny!"
COME SEE FOR YOURSELF ~ WHO CARES ~ EVERYONE CARES ABOUT YOU AND WANTS TO SEE YOU!
WE ARE FAMILY!
"I WISH I HAD A CLASS THAT WAS CLOSE LIKE YA'LLS".....says every other class we hear from!
When: October 7, 2016
Where: Novroszsky's in Silsbee
Time: Immediately following Silsbee Homecoming Football Game
SPIRIT OF 76 building new memories and renewing old ones!!!
REGISTER NOW TO ATTEND
JOIN US IN SHARING THE "SPIRIT OF 76" IN THE HOMECOMING PARADE!
All of your grandchildren LOVE to see their Grandparents riding through the parade and waiting for that "special" gift you have to throw to them. It is even more fun when you are the Grandparent and you hear them yelling your name as loud as they can as they jump up and down hoping you see them! Whether you have grandchildren yet or not.......this is FUN! Come share the "SPIRIT OF 76" with the whole town of Silsbee!
WHEN: October 8, 2016
WHERE: Silsbee Doctors Hospital directly behind Kirby Elementary
(We will meet and leave our vehicles at the Silsbee Doctors Hosptial parking lot. We will load the parade trailer and be taken to our alloted space in the parade lineup.)
TIME: Lineup at 8:30 - 9:00
Parade Begins: 10:00 am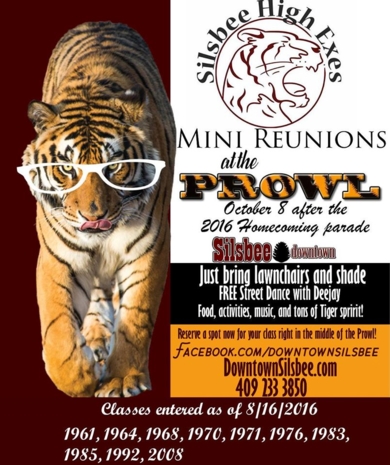 JOIN YOUR CLASS FOR LOTS OF FUN AT THE DOWNTOWN TIGER PROWL......if you ever made one of the street dances back in the day; this will bring back tons of memories!
BRING YOUR LAWN CHAIR!
Where: Silsbee Public Library
TIME: 11:30 am to 5pm
REGISTER NOW
"SPIRIT OF 76"
Come out and SHAKE YO GROOVE THANG with the CLASS OF 76!
STILL ALIVE AT 35 AND YET FEELING SPORTY AT 40!
LIVE BAND: JERRYATRICKS
Featuring: Randy Fuller, Jerry Hawthorne and David Bush
BBQ will be catered by the famous "Caroline's BBQ" as featured in Texas Monthly Magazine.
When: October 8, 2016
Where: PALM PLAZA JEWEL EVENT ROOM
Time: 7:00 pm til 1:00 pm
BYOB
(Security will be on premises during this event)
WHAT A BLESSING IT IS TO GATHER TOGETHER AND WORSHIP WITH YOUR CLASSMATES!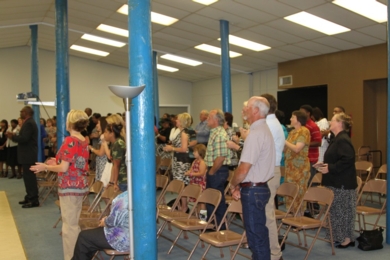 WHEN: October 9, 2016
WHERE: Old Jones Decorating Center Building
TIME: 10:00 AM
The service will be limited to the Class of 1976 and their families.
REGISTER TO ATTEND NOW!