South Charleston High School
Class Of 1963
High School Days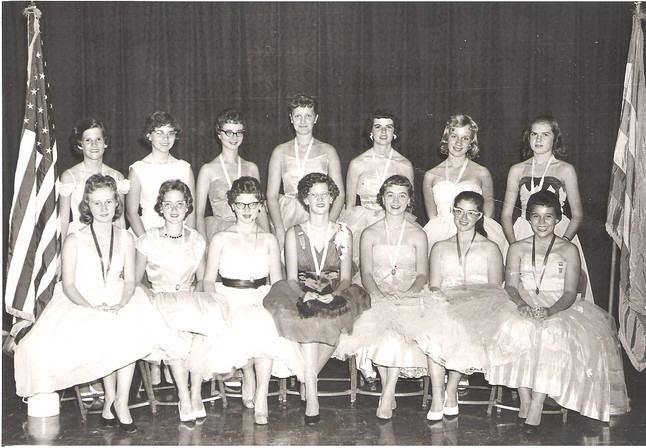 South Charleston High School opened in the fall of 1926 in a distinctive five-sided building on Third Avenue and E Street. Miss Clara Smith served as principal for the first school year. As the only senior that year, Kathleen (Harless) Hamilton became the first and only graduate of the Class of 1927.
In 1931, the school (grades 7-12) became Loudon District High School and moved to a new building at Third Avenue and C Street. Two years later, the West Virginia Legislature terminated district boards. During the 1933-34 school year, the Kanawha County Board of Education assumed the administration of
the high school and changed the name back to South Charleston High School. However, the name on the front of the building remained unchanged for another 26 years. Over the next four decades, SCHS changed to grades 9-12 and then to grades 10-12. Enrollment peaked with the "baby boomer" classes of '64-'65-'66.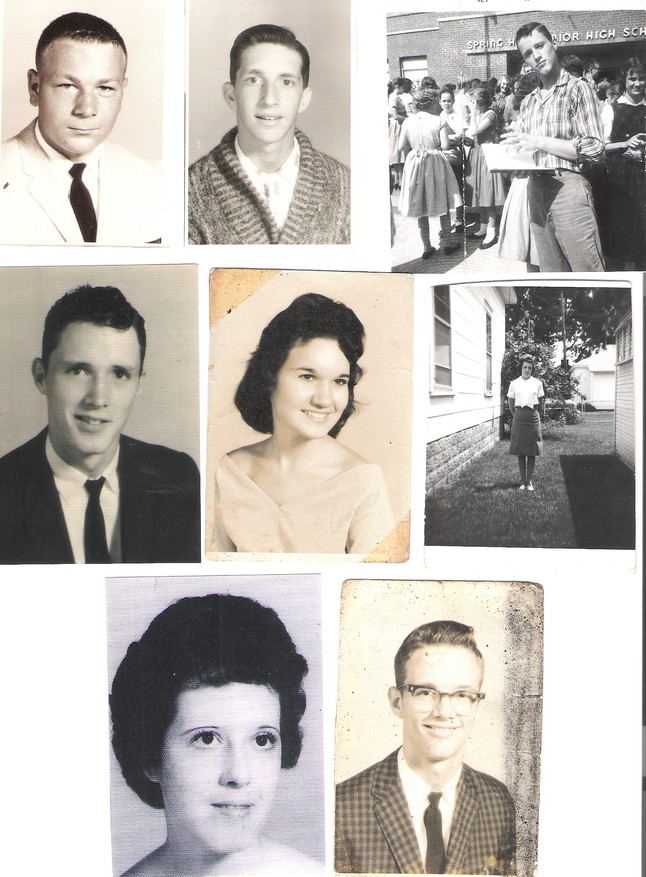 1926-27

School opened at Third Avenue & E Street

First football game coached by Roy Price

First basketball game coached by Elma Stover

1927-28

First girls' basketball game

First yearbook, The Loudspeaker

Original class ring design

1928-29

Yearbook renamed The Pentagon

1929-30
Logo designed by Kenneth Means
1930-31
1931-32

School became Loudon District High School and moved to Third Avenue & C Street

First issue of school newspaper, The X-Ray

1932-33

Charles Gorby organized the first band

1933-34

School renamed South Charleston High School

Orange and black selected as school colors

The Black Eagle adopted as school mascot

"Stand Up and Cheer" became the fight song

1938-39

Oakes Field Gymnasium opened

Carolyn (Hoover) Miller chosen as first Miss Black Eagle

1940-41

First undefeated (6-0-1) football team coached by John Worth

1941-42

First football game played at Oakes Field

1944-45

Bill Weber name West Virginia Coach of the Year

1945-46

School's only perfect football season (11-0)

West Virginia State High School Football Champs

1947-48

Dolores (Thompson) Blackwell chosen as first Miss Kanawha Majorette

1953-54

Alma Mater first performed at school assembly

First night football game played at Oakes Field

1958-59

West Virginia State High School Basketball Champs coached by Jack Surrette

1960-61

Welcomed first foreign exchange student, Jan Ivar Koksvic of Norway

1965-66

N. David Stern direction first show choir

1966-67

Cindy (Faulkes) Lawson election Governor of Rhododendron Girls State

Mike Akers elected Governor of Mountaineer Boys State

1971-72

School moved to site of former Southmoor Country Club

1975-76

Dedication of Robert L. Bryan Baseball Field

Robert Alexander received Kennedy Award as West Virginia's Top Football Player

1976-77

Robert Alexander received his second Kennedy Award

West Virginia State Baseball Champs coached by Jim Fout

1977-78

West Virginia State AAA Baseball Champs coached by Steve Stoffel

1981-82

KVC Basketball Champs coached by Bill Walton

Gay Elmore named West Virginia Player of the Year

1982-83

Home basketball court moved to the new South Charleston Community Center

KVC Basketball Champs coached by Bill Walton

1983-84

KVC Basketball Champs coached by Bill Walton

1985-86

Named West Virginia Exemplary School

1990-91

Consolidation of Dunbar High School and South Charleston High School

Home football moved to Lions Field in Dunbar

1991-92

"Catch the Spirit" initiative

1992-93

First night baseball game at Bryan Field

1993-94

Multipurpose physical fitness facility

1994-95

West Virginia State AAA Football Champs coached by Bryce Casto

Bryce Casto named West Virginia Coach of the Year

1995-96

Girls' softball field opens at Bryan-McIlwain Baseball Complex

1996-97

South Charleston Alumni Association organized

1997-98

SCHS Alumni Association published first alumni directory

1999
1999-2000

International Baccalaureate Program implemented

2001-2002

Carl Tully Auxiliary Gymnasium added as part of major construction project

Dedication of Alumni Memorial Fountain

2002
2002-2003

West Virginia State AAA Girls Basketball Champs

68 graduates awarded first Promise Scholarships

2003-2004

West Virginia State AAA Girls Basketball Champs

Alexis Hornbuckle named Youth Basketball Magazine Player of the Year, WBCA MVP, McDonald's Player of the Year, Gatorade Player of the Year and Adidas Player of the Year 2006

2004-2005

Named West Virginia School of Excellence

2006

Live on the web www.schsalumni.org