St Augustine High School
Class Of 1985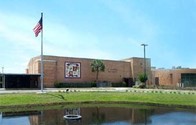 In Memory
Stephanie Singleton (Gilliam)
Stephanie "Theresa" Singleton-Gilliam, 44, a lifelong resident of St. Augustine, transitioned on April 24, 2012, at home. She was a 1985 graduate of St. Augustine High School, a member of Tabernacle Missionary Baptist Church and a supervisor at St. Johns County Clerks Office.
She is survived by her husband, Frederick Gilliam Sr.; sons, Rai"Shawn Wilson and Frederick Gilliam Jr.; daughters, Fantasia Gilliam and Tory Wilson; three granddaughters, Rai"Naya, Jayda and Ta"Riyha; parents, Sandra and Charlie Gilliam; sisters, Carol Whitty, Gloria Glass and Carmina Gilliam; brother, Conan Gilliam; aunts, uncles, nieces, nephews, other relatives and caring friends.
Funeral services will be held 1 p.m. Saturday, May 5, 2012, at Anastasia Baptist Church, the Rev. Walter West, pastor, and the Rev. Richard Madison, Tabernacle MBC, officiating. Calling hours are 5-7 p.m. Friday at Tabernacle Missionary Baptist Church.
Leo C. Chase & Son Funeral Home is in charge of arrangements - See more at: http://www.legacy.com/obituaries/staugustine/obituary.aspx?pid=157431959#sthash.OHgopuVh.dpuf