In Memory
Richard Hill (Faculty)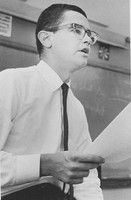 Richard F. Hill, educator, writer, dies at 58
St. Petersburg Times - St. Petersburg, Fla.
Date: Jan 7, 2000
Richard F. Hill, a retired educator and an awardwinning author, has died at age 58. Mr. Hill, a longtime resident of St. Petersburg, died Friday (Dec. 31, 1999) at his Tampa home. The cause was a cerebral hemorrhage, a son, Patrick, said Thursday. In 1973 he won the O. Henry Award for Out in the Garage, which recounts memories of his childhood. "It's the best award a short story writer can get," he said at the time, "like a novelist winning a Pulitzer (Prize). But it's about time I got some recognition, a point any writer will make if he's honest. You pay your dues and wait, because the odds against making it in short story writing are high." Three years later, Mr. Hill received a creative writing fellowship from the National Endowment for the Arts.
Born in St. Petersburg, Richard Fontaine Hill graduated from Boca Ciega High School in 1959 and considered a career in music, playing saxophone with jazz groups, said Dr. Elizabeth Eaddy Payne, who was his third wife and had known him since she was 14. In his 1994 novel about a jazz figure, Riding Solo With the Golden Horde, which was based loosely on his teenage years, he capitalized on his musical background. The book was published by the University of Georgia Press in 1994, the year Mr. Hill was one of the speakers at the Times Festival of Reading at Eckerd College campus in St. Petersburg. Mr. Hill served in the Navy and Coast Guard and devoted himself to his education, collecting undergraduate and graduate degrees from the University of South Florida. He taught at Northeast High School, St. Petersburg, USF and St. Petersburg Junior College. He studied for a year at Florida State University, returning in 1991 to receive a doctorate in English. He wrote five novels, including Ghost Story (1971), which was set in St. Petersburg; Kill the Hundredth Monkey (1995); Shoot the Piper (1994); and What Rough Beast? (1992). Survivors include two sons, Patrick F., and Miles Anthony, both ofTampa; and a sister, Sharon Luce, Springfield, Mo.